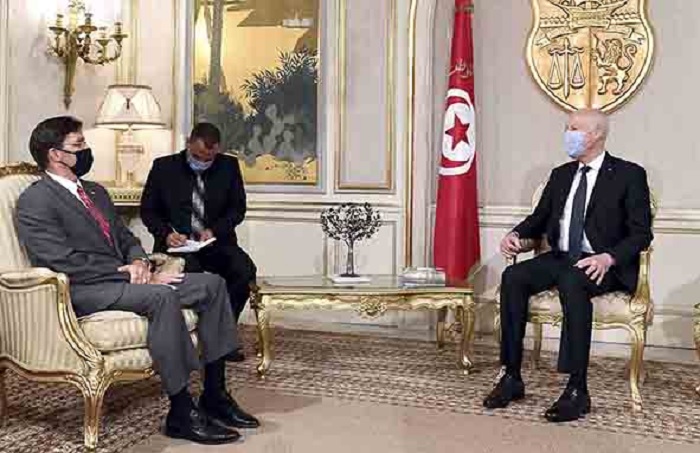 US Defence Secretary Mark Esper highlighted Washington's focus on containing Chinese and Russian influence in Africa as he arrived in Tunisia Wednesday.
The objective, however, is unlikely to get much traction in the Maghreb although there is common interest in upgrading cooperation with the US in fighting terrorism.
"Today, our strategic competitors China and Russia continue to intimidate and coerce their neighbours while expanding their authoritarian influence worldwide, including on this continent," said the US Pentagon chief during the Tunisian leg of his tour of North Africa.
"And, together, we continue to counter the malign, coercive, and predatory behaviour of Beijing and Moscow, meant to undermine African institutions, erode national sovereignty, create instability, and exploit resources throughout the region," he added during a ceremony at the World War II cemetery in Carthage, where about 2,800 American soldiers are buried.
Esper, who arrived in Algiers Thursday, is scheduled to hold talks with Algerian and Moroccan leaders till Friday, after having met with Tunisian President Kais Saied Wednesday.
The three Maghreb countries have good relations with China and Russia and are unlikely to go along with any US initiative that could alienate the goodwill of Moscow and Beijing. The three countries face a severe economic downturn and do not have the luxury of choosing investors and financial partners. Furthermore, they are currently in active discussions with China and Russia over acquiring COVID-19 vaccines as they struggle with the massive fallout of the pandemic.
Based on Esper's remarks after his arrival in Algiers, and following his talks with Saied, there was clearly more interest expressed in counterterrorism cooperation.
The US defence secretary said he looked forward "to expanding this relationship to help Tunisia protect its maritime ports and land borders, to deter terrorism."
At the end of his meeting with the Tunisian president, Esper said he discussed with Saied "the threat terrorism and malign actors pose to regional stability and the sovereignty of African countries."
He added that he "emphasised the United States' commitment to strengthening its partnership with Tunisia to further progress made in countering violent extremism and defending international norms."
While highlighting the importance of US-Tunisian cooperation, Saied insisted the fight against terrorism required a "global approach addressing the socioeconomic roots of the problem."
Another crucial issue on the agenda of the trip to Tunisia and other Maghreb countries is Libya.
All Maghreb countries oppose foreign interference in the Libyan conflict and want a political settlement to the crisis through talks between Libyans themselves.
But in Libya, the US is especially alarmed by Moscow's presence and seems less worried about Turkish military involvement on the side of the Libyan Government of National Accord (GNA).
US officials speaking on background during the Esper tour said they were wary, "Russia is trying to establish a military base in Libya. If it succeeds, any solution to the war in Libya will be harder to negotiate."
Washington has in recent weeks exerted enough pressures on Libyan factions and their sponsors to nudge them towards negotiations for a peaceful settlement.
According to his press office, the Tunisian president expressed his satisfaction at recent talks between Libyan rivals.
The most concrete outcome of Esper's visit to Tunisia was the signing of a "ten-year Roadmap of Defense Cooperation."
The document, signed at the Tunisian defence ministry by Esper and his counterpart Brahim Bartagi, traced out bilateral military cooperation in the decade ahead, according to a statement by Tunisia's defence ministry. The accord is said to focus on improving the Tunisian army's operational capacities.
According to US sources, the deal covers training and after-sales service of sophisticated American weapons.
Washington in 2015 classified Tunisia as a Major Non-NATO Ally, allowing for reinforced military cooperation.
The two sides regularly hold joint exercises, and since 2011 Washington has invested more than $1 billion in the Tunisian military, according to US Africa Command (AFRICOM).
The latest exercise was held between Tunisia and AFRICOM last month.
Contrary to media speculation prior to the visit, there was little indication the US side raised the issue of normalisation with Israel in Tunisia.
Support for Palestinians is strong among the Maghrebi public and the issue of normalisation with Israel has not recently been raised by the countries' governments.