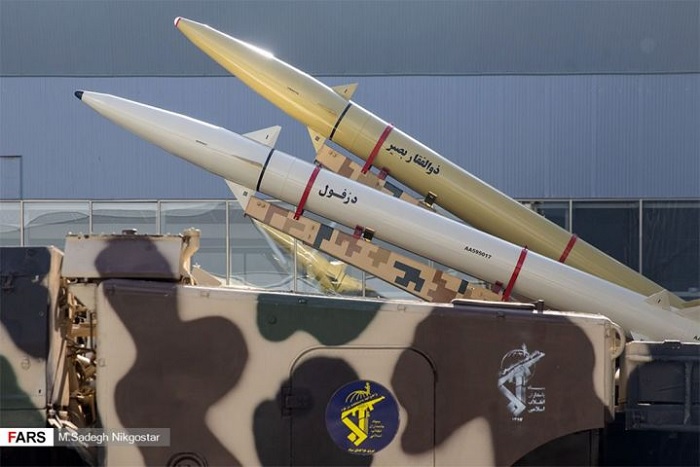 A longer-range anti-ship missile variant of Iran's Fateh-110 family of solid-propellant ballistic missiles was shown for the first time when the Islamic Revolution Guards Corps (IRGC) opened the National Aerospace Park in Tehran to display the military equipment it has developed.
The Zolfaghar Basir missile was reported to have a range of 700 km, significantly further than the first anti-ship variant, the Khalij Fars, which was unveiled in 2011, uses an electro-optical seeker, and is said to have a range of 300 km. There are also radar-guided variants called the Hormuz.
The Zolfaghar Basir was shown with a small transparent dome on the end of its warhead section, implying it also uses an electro-optical seeker.
The tube-launched ballistic missile system unveiled during an exercise in July was also displayed, confirming it uses a Fateh-110-series missile. The tube can be buried in the ground to make the missile harder to find and destroy before launch.
The exhibition included almost all known Iranian ballistic missile types from the earliest 'Scud' that it acquired in the 1980s through to recent developments. The example of the Khorramshahr liquid-fuel ballistic missile, the IRGC's most powerful weapon, that was displayed appeared to be an early example, perhaps one of the BM-25 Musudan's that Iran acquired from North Korea.