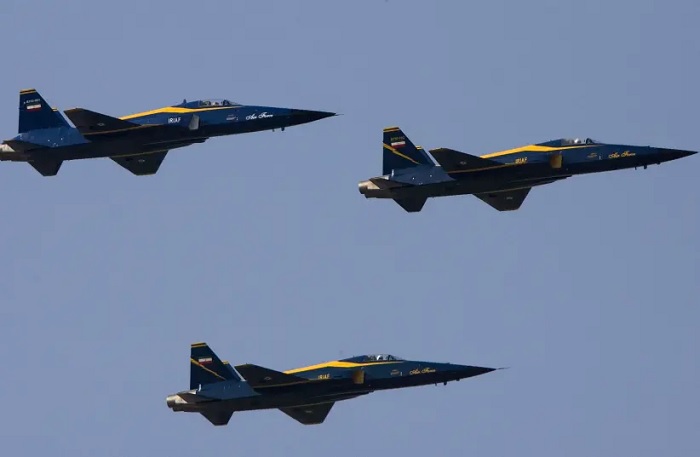 Iranian media has claimed that the country is one of the world leaders in radar technology and Brig.-Gen. Ali Hajizadeh of the Islamic Revolutionary Guard Corps (IRGC) said that new systems installed in Yazd province illustrate the country's capabilities.
Iran's boasts of its increased radar prowess are aimed at the US, Israel and other nations and it is also looking to export its technology to allies in Syria, possibly Iraq, and elsewhere.
"These radars can detect up to a range of 350 km. and, depending on the altitude, up to 1,000 km," a report said.
Tehran has combined its new radars, at the service of the IRGC Aerospace Force with those of the Iranian army, overlapping coverage to achieve military excellence in the field, an article argued.
"Islamic Iran is definitely among the top ten countries," Tasnim News said. The country intends to put in place new radar stations at Chabahar and other areas that will be used by the Guard.
The IRGC's dominance of radar use in Iran is part of the country's projection of power and concentration of military technology in the hands of the Guard Corps. The IRGC also leads development of missiles, drones and other key aspects of Iran's military industrial complex.
Tal Inbar, until 2019 the head of the UAV research center at the Fisher Institute for Air and Space Strategic Studies and now an independent analyst, said on social media that "Iran has put two more 3D-detection Ghadir long-range radar [systems] into operation. With [an] approximate range of 1,100 km., the radar can detect targets with low RCS [radar cross section]. Number of systems as of today: 8."
Stealth-style warplanes, drones and smaller flying objects may project a low RCS.
Fars News also described the "advanced" systems in an article on October 6. The article said that a first batch of long-range systems was installed in 2014 at Garmsar in eastern Tehran. More were added in Ahvaz in July 2015. The article said that the IRGC Aerospace Force built the new Ghadir radars that are also suitable for "electronic warfare."
In the lead-up to the Iran Deal when Tehran was preparing new technology, it hoped to extricate itself from sanctions and embargoes, to rapidly increase the range of its missiles, drones and satellites so that it could increase its power and threats in the region.
Iran has claimed to have downed US drones dating back to the 2011 capture of the secretive RQ-170 drone known as "Sentinel."
Later, Iran showed more drones that it said were American, British, and from other nations. It said they were intercepted in Syria, Afghanistan and elsewhere. They took them back to dismantle them and study them and reverse-engineer them.
Tehran also scored a major coup in 2019 when it shot down a US's $200 million Global Hawk high-altitude surveillance drone.
Iran says its system can track 300 targets simultaneously at a range of 400 km. and can "analyze them completely."
The Iranian radar could also aid Iran's allies, such as the Houthis in Yemen, the Syrian regime, Iraq and Hezbollah. This makes it a threat to Israel – depending on how Iran chooses to use it.