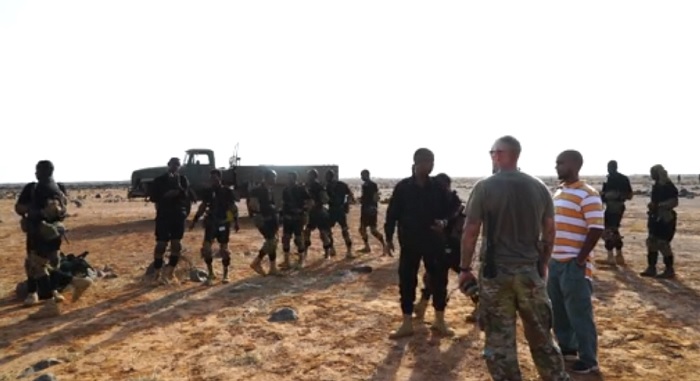 U.S. Army Lt. Col. Jon Anderson no longer notices the baboon refuge and sheepherders each day en route to train the Djiboutian National Army from the only American base on the African continent, Camp Lemonnier.
Each day, he also sees a Chinese military base through the humid 118 F heat and knows that terrorist group al Shabab is just across the border in Somalia, with aims at the American homeland.
"From our roost, we can see the sea, which is off to our east," the Georgia boy said with a southern twang as he described his drive to the training area. "We're really driving out through the outback, which looks maybe like Northern Colorado with red rocks here and there and some hill country."
In this east African nation, where the U.S. bases anti-piracy and counterterrorism operations, America offers know-how and friendship. The hope is a policy prescription that builds lasting and human connections that go beyond Chinese stadiums and predatory loans.
Anderson and fellow Georgian Sgt. 1st Class Justin Seeley recently spoke by teleconference from Djibouti to the Washington Examiner to describe the role of their Army Security Force Assistance Brigade in great power competition with China.
U.S. Africa Command's Air Force Col. Chris Karns explained to the Washington Examiner what's at stake.
"China's influence is growing in Africa. They see Africa's economic potential and seek great power status there," he explained. "As access is gained, it presents security and economic risk potential for the U.S."
Sandwiched on the Horn of Africa between extremist terrains in Somalia and Mali, Djibouti is surprisingly peaceful and a potential future economic gateway to east Africa. America would like to keep the peace but not lose influence to China.
Training up local militaries helps secure the American homeland and maintain the U.S. status as the military partner of choice.
"Djibouti as a while has been fairly insulated from [violent extremist organizations]," Seeley said. "It's nice for us to be here and to give their soldiers [the capacity] to ensure that that freedom continues."
Karns explained that extremist groups that aspire to hit the United States again are kept at bay by teaching local militaries how to maintain stability and security in their borders.
It's a small footprint at a small cost, say Pentagon planners and members of Congress.
"Violent extremist organizations remain a reality and threat for many countries, especially in Africa," Karns said. "Certain groups like al Shabab have ambitions to strike America. The work being done in Africa prevents ambition from becoming a potential reality."
Five days a week, American Army soldiers are building confidence in Djibouti soldiers in a way the Chinese troops, who do not leave their base to interact with locals, are not.
"We are both reteaching their squad-level training, some of the basic infantry tactics, and simultaneously we're working with their leaders with long-term staff planning," said Anderson.
The military skills include basic intelligence, logistics, and medical practices, but they also include vital techniques for identifying and neutralizing terrorists.
Anderson described one offensive approach involving a "V" shaped alpha team of four riflemen led by a squad leader armed with a heavy weapon like a machine gun in the center. Behind the squad leader, a Bravo team of four additional riflemen provide additional support.
"If they know where the enemy is and they want to attack them, they would establish a point where they can find cover and a way to conceal themselves, and they would initiate the attack," he explained.
Seeley and Anderson said the Chinese base is located just north of Camp Lemonnier, near the port where Chinese shipping companies dock.
"The Chinese soldiers, as far as we know, don't go into the city," said Anderson. "Our local linguists say they've never seen any of the Chinese soldiers."
Seeley said China's goals are palpable.
"We understand that they're here. We understand that they want to know what we're doing. They want to be the power in Djibouti moving forward," he said.
Absent the billions of dollars in economic assistance, the U.S. uses military to military relationships to exert influence in Djibouti and across Africa.
"They have more of an economic interest, whereas the U.S. and the French are actually training the soldiers," said Anderson, describing huge walled industrial compounds built by the Chinese.
"We're doing more partnering with the Djiboutian military, whereas the Chinese are partnering with industry," he explained. "We want them to understand that we're the preferred partner when it comes down to the friendly countries."
Seeley said it's not hard to see the American commitment has made a personal connection.
"When we're on the ground teaching and training with the [Rapid Intervention Battalion] soldiers, they are engaged, and they are ready to learn," he said.
Certificates of completion were celebrated by the African troops with a parade of military vehicles in town.
"They have their own unique culture," Seeley recalled after the end of one training session. "They break out into a song and clap and dance. They appreciate us. That makes us feel like we did a pretty good job."