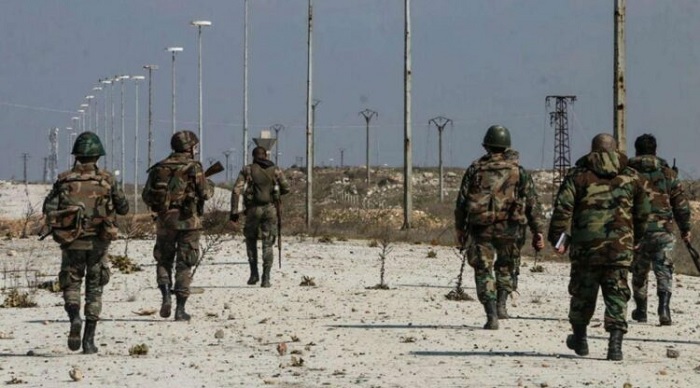 Syrian Observatory activists have monitored ongoing fierce clashes on several frontlines in the eastern countryside of Hama in the Syrian desert between regime forces and loyalists on one hand, and "Islamic State" on the other, as a part of ISIS attack on the area.
The clashes coincided with intensive attacks and bombardment, amid Russian jets' participation in repelling the attack, while regime helicopters were seen yesterday striking the area.
The clashes are concentrated on the frontlines of Al-Rahjan, Al-Shakousiyyah and Athariyah in the far eastern countryside of Hama.
Meanwhile, SOHR activists have documented large number of fatalities on both sides in the intensive aerial and ground shelling and fierce clashes during the past 48 hours, as 21 regime soldiers and loyalists were killed, while ISIS lost 13 members. The death toll is expected to rise further, as several soldiers and members were injured, some seriously.
Since 24th of March 2019, SOHR has documented the killing of at least 869 regime soldiers and loyalists of Syrian and non-Syrian nationalities, including at least two Russians, and 140 Iranian-backed militiamen of non-Syrian nationalities. All were killed in attacks, bombings and ambushes by the "Islamic State", west of Euphrates in the deserts of Deir Ezzor, Homs, and Al-Suwaidaa.
Also, four civilians working in gas fields, 11 shepherds and four other people were killed and documented by SOHR in the same period, from late March 2019 until today. They were killed in attacks by ISIS cells. While 473 ISIS members were also killed in attacks and bombardment in the same period.