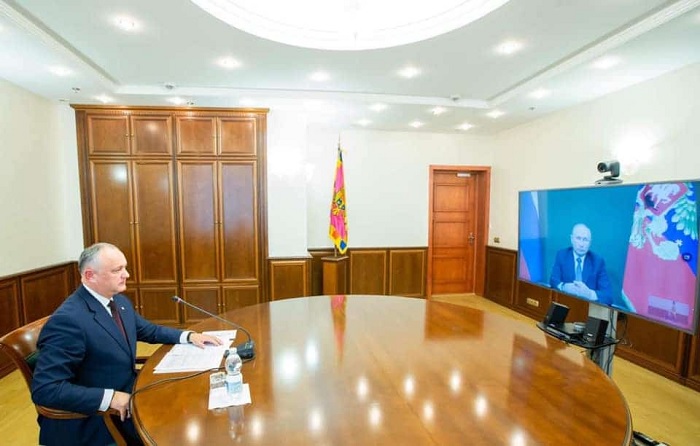 Moldovan President Igor Dodon has a fight on his hands for a second term in an election that offers voters a familiar choice.
Moldova's presidential election on November 1 is shaping up to be a re-run of the previous poll in 2016, only this time the outcome might be different.
Once again offering Moldovans a stark choice between East and West, pro-Russian incumbent Igor Dodon and his pro-European challenger, Maia Sandu, are almost certain to enter a run-off on November 15.
But while opinion polls in 2016 correctly predicted a Dodon victory, this time Sandu enjoys a narrow advantage.
The former Soviet republic, Europe's poorest country, is almost evenly split between pursuing integration with Europe and remaining under Russia's wing.
The country embarked on its European path about a decade ago, but progress has been rocky, while poverty and unemployment are fuelling one of the highest rates of migration on the continent.
Besides Dodon and Sandu, six other candidates are also running – Our Party leader Renato Usatii, Dignity and Truth Platform leader Andrei Nastase, former Liberal Democratic Party leader Tudor Deliu, Shor Party MP Violeta Ivanov, National Unity Party leader Octavian Ticu and Liberal Party leader Dorin Chirtoaca.
All six, however, trail Sandu and Dodon in opinion polls going into the race.
According to the latest, published by the International Republican Institute, IRI, on September 24, Sandu can count on 20 per cent of votes in the first round, ahead of Dodon's 18 per cent. She also enjoys a narrow advantage in terms of voters' second choice. In 2016, Dodon won the first round and the second.
Sandu, a 48-year-old Harvard-educated former World Bank adviser, has said the time has come for "the good people".
"We need a president who knows how to put Moldova on the right path, not one who will keep us in the mud," the leader of opposition Action and Solidarity Party said at her campaign launch. "We need a president who will give us hope for tomorrow."
The Russia card
Spurned by the European Union and Moldova's neighbours Romania and Ukraine, 45-year-old Dodon is once again playing the Russia card.
On September 28, he held a videoconference with Russian President Vladimir Putin, discussing the possibility of Russian aid for drought-hit Moldovan farmers and the progress of negotiations on a 200-million-euro Russian loan. Dodon later told NTV TV that he had asked the head of Russian oil giant Lukoil for a 10-12 per cent discount on diesel for farmers.
Dodon launched his campaign, backed by the Socialist Party, at a construction site, promising to expand and repair the country's rundown road network. The event was captured by drones filming overhead, as Dodon promised better social care, the modernisation of rural areas, a sustainable economy, 'the defence and consolidation of statehood', a 'balanced' foreign policy and the preservation of 'traditional,' Christian values.
"Moldova needs responsible policies, balanced policies," he said. "Together we overthrew an oligarchic regime. This year, we are facing unprecedented crises: the COVID pandemic, the drought, the economic crisis. Despite all the difficulties, we manage to maintain and manage the situation in Moldova."
The influential Chisinau-based think-tank Foreign Policy Association, APE, warned that under Dodon integration with the EU will be stripped back while relations with the countries of the Russian-dominated Eurasian Economic Union "will be developed in all directions."
But it's the Socialist-led management of the COVID-19 pandemic that has heaped pressure on Dodon, with Moldova facing one of the world's highest rates of infection per one million people. In a country of 3.5 million people, more than 55,000 cases have been confirmed and 1,330 people have died.
Powerful backers
Sandu has compared the Socialists' handling of the novel coronavirus to its running of the country, declaring that "Moldova can no longer afford improvisation or corruption".
"A poorly managed state is a disease, and we have the medicine with you – your vote," she said. "It is our voice that is heard more and more respectfully in houses, streets and in the city."
While Dodon enjoys the support of Putin, Sandu has won the backing of the centre-right European People's Party, EPP, the biggest political bloc in the EU.
"When someone in Europe asks me if Moldova deserves support, I answer immediately – Yes! And when I ask who can lead Moldova to success the fastest, I answer immediately – Maia Sandu," the EPP's Polish leader Donald Tusk said in a video message on September 1 in Romanian, the language spoken in Moldova.
While on the left, Dodon can expect to lose a few votes to Usatii and Ivanov, Sandu's first-round showing may be hurt by the candidacy of Andrei Nastase, a former ally and leader of the Dignity and Truth Platform.
Nastase launched his campaign with a plea for the confiscation of illegally acquired assets held by prosecutors and judges, for fair salaries for doctors and teachers and a minimum pension of 2,500 lei, roughly 130 euros, per month.
Voters will have the chance to cast their ballots in 2,143 polling stations, including 139 abroad. There will be 42 in the breakaway, Russian-backed region of Transnistria after separatist authorities lifted restrictions on movement in exchange for economic concessions from Chisinau.