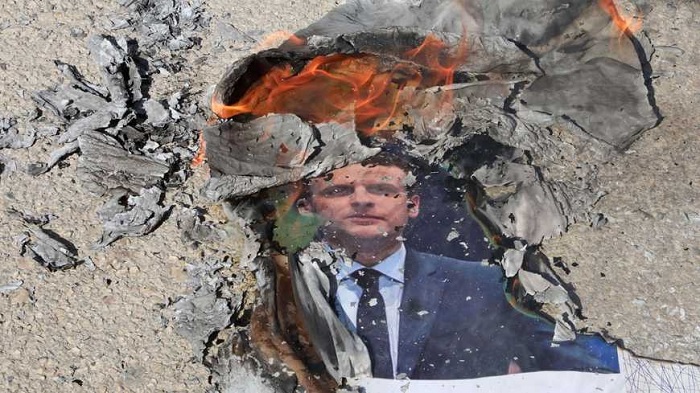 The kingdom "rejects any attempt to link Islam with terrorism," a Foreign Ministry source said.
Saudi Arabia is the latest Muslim country to denounce French President Emmanuel Macron's controversial comments on Islam and depictions of the Prophet Muhammad.
"The Kingdom of Saudi Arabia rejects any attempt to link Islam with terrorism, and condemns the offensive cartoons of the Prophet," the Saudi Press Agency quoted an official Foreign Ministry source as saying.
Riyadh also called for "intellectual and cultural freedom to be a beacon of respect, tolerance and peace that rejects practices and acts which generate hatred, violence and extremism," the statement said.
The controversy erupted last week when Macron spoke at the memorial service for a teacher killed after showing his classroom cartoons of the Prophet Muhammad during a lesson on freedom of expression. French prosecutors say Samuel Paty was beheaded in broad daylight by an 18-year-old Chechen refugee who was later shot dead by police.
In Islam, depictions of the prophet are considered blasphemous. Satirical French magazine Charlie Hebdo touched off the debate over France's long tradition of freedom of expression last month when it republished the cartoons that triggered the terrorist attack that killed 12 of its employees in 2015.
"We will not disavow the cartoons, the drawings, even if others recoil," Macron said during Paty's service, adding that France doesn't "believe in political Islam that is not compatible with stability and peace in the world."
Macron's comments have since sparked calls for boycotts of French goods in a number of Muslim-majority coutries. Tens of thousands of people took to the streets of Bangladesh's capital on Tuesday, with protesters torching an effigy of Macron.
In the past week, a major retail union in Kuwait said it would pull from its shelves goods that are made in France over the "repeated insults" to the Prophet Muhammad. Al Meera, a major supermarket chain in Qatar, also announced it was removing French products until further notice.
On Sunday, Twitter users in Saudi Arabia called for a boycott of the French grocery chain Carrefour. Stores in the kingdom visited by Reuters, however, "seemed busy as normal."
Turkish President Recep Tayyip Erdogan has meanwhile suggested that Macron get mental health treatment following his divisive comments. He called on Turks to boycott French products and urged Europe to put an end to the French leader's "campaign of hatred."
Macron has doubled down, tweeting Sunday, "We will not give in, ever." He has also pledged to introduce a law in December that would crack down on what he calls "Islamist separatism." His plan includes ending a program that imports imams from other countries such as Turkey, Algeria and Morocco.