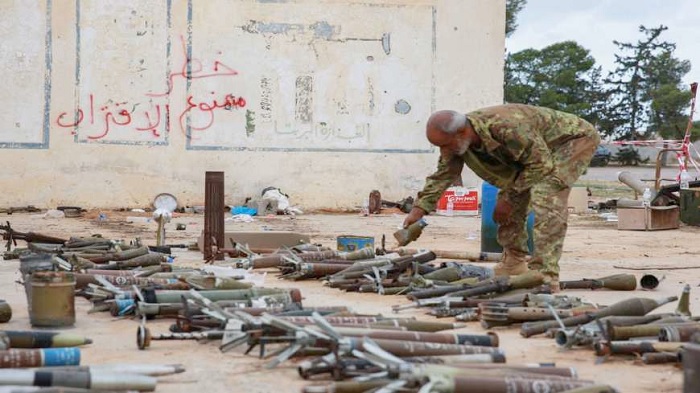 The meeting is the first since the two parties agreed to a cease-fire last month.
On the heels of a landmark cease-fire agreement, military delegations from Libya's two warring parties sat down Monday for rare face-to-face talks inside the war-torn country.
The talks, scheduled for Nov. 2-4, are aimed at implementing a cease-fire reached last month between the internationally recognized Government of National Accord (GNA) and Gen. Khalifa Hifter's self-styled Libyan National Army (LNA). The truce, which the United Nations has described as a historic turning point in the war, calls for foreign fighters and mercenaries to leave Libyan territory within the next three months.
The UN Security Council ratified the cease-fire last week, calling on "the Libyan parties to abide by their commitments" and fully implement the agreement.
The North African country descended into chaos amid a 2011 uprising that overthrew and killed longtime dictator Moammar Gadhafi. The country is now ruled by two administrations whose rivalry has become a full-blown proxy war.
Regional powers have flooded the country with weapons in violation of a UN arms embargo. The Tripoli-based GNA counts on support from Turkey and Qatar, while the LNA relies on the United Arab Emirates, Russia and Egypt.
Since Turkish military support helped the GNA quash Hifter's yearlong offensive on the capital, Tripoli, in June, negotiators have sought to avoid a military escalation in the strategic city of Sirte, which Hifter's forces have occupied since January.
The talks this week involve five military representatives from each side, as well as the UN's Libya envoy Stephanie Williams. The three days of UN-brokered meetings are being held near the country's border with Algeria and Tunisia in the desert city of Ghadames, roughly 465 kilometers (290 miles) southwest of Tripoli.
On Nov. 9, 75 members of Libya's political and civil society are scheduled to meet in Tunis for UN-mediated talks aimed at setting a date for national elections.