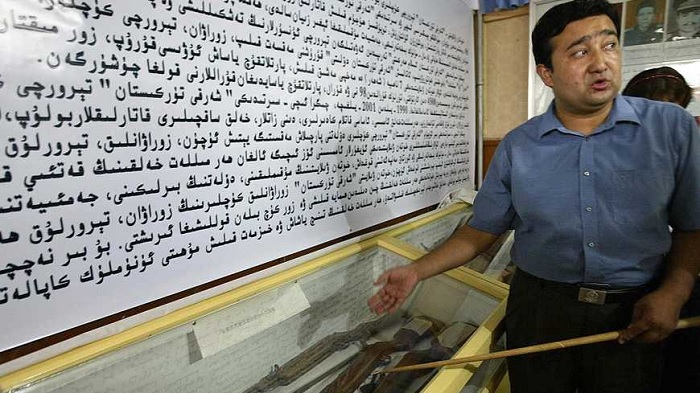 The Turkestan Islamic Party, which is mainly made up of fighters from the Uighur minority in China and is one the largest non-Syrian fighting group in Idlib, has been removed from the US terrorist exclusion list.
Abbas Sharifa, a Syrian researcher on Islamic groups based between Turkey and Aleppo's northern countryside, told Al-Monitor, "There are three hypotheses to explain the US decision. The first is that [the decision] consists of a US step to pressure China and remove any legitimacy for Chinese oppression against the Uighur minority. Such move would be a prelude to support the Turkestan opposition against the Chinese government, as a tool to pressure China; this will complicate the file for the Biden administration, which seeks a settlement with China."
"The second hypothesis is that this step would end the file on the foreign fighters in northwestern Syria and pave the way for a US-Turkish security coordination in the area, particularly since most of the families of the Uighur fighters in Syria have lived in Turkey for a long time due to the Chinese crackdown. This US step could also be a part of efforts to resolve some pending files in the east of the Euphrates and Idlib and end any Russian pretexts to target Idlib," Sharifa added.
He continued, "The third hypothesis is that the decision is part of the negotiation deal between the Taliban and the US. Since the East Turkestan Islamic Movement was closely related to Taliban leader Mullah Muhammad Omar, the decision would help the movement communicate with many countries without causing embarrassment to said countries. Also, the [movement] leaders would not be targeted by the US-led coalition and its financial transfers and logistical support will not be prevented or strictly monitored as the financial transfers of armed organizations are."
He added, "As for the party's presence in Idlib, so far the US has not targeted any of its leaders via its drones, which have targeted IS leaders and al-Qaeda affiliated Guardians of Religion (Hurras al-Din) in Idlib. That could indicate that the US does not see any danger from the party's presence in Idlib and its coordination of all its military operations with Hayat Tahrir al-Sham."
Sharifa pointed out that Turkey will benefit most from the US decision as it paves the way for a common ground for a security cooperation with the United States.
Abdul Wahhab Assi, a Syrian researcher based in Turkey, told Al-Monitor that the US decision focuses on the armed East Turkestan Islamic Movement. "As for the Turkestan Islamic Party, it was not precisely placed on the blacklist, but is being dealt with as a party affiliated with the movement which pushed its cadres to establish the party in Syria in 2013. Removing the movement from the list of terrorist groups would mean dealing with it as a national liberation movement for the Xinjiang region in China. That could motivate the [movement's] fighters in Syria to return to their headquarters in Afghanistan, which requires high security coordination with Turkey, as well as the Taliban. The US announcement supposably came after these arrangements were made."
He added, "This [US move] may help Turkey solve the party's file in Idlib, whether by facilitating the return of its leaders and members to Afghanistan, integrating the families [of the fighters] with Uighur refugees on the Turkish territory or ensuring that Turkey's anti-terrorism policies are applied to those fighters who want to remain in Syria. That would imply ensuring that they have no contact with any of al-Qaeda's affiliated groups. It could be said that the decision will boost the Turkish efforts to resolve the dossier regarding the jihadi organizations in Idlib, especially Hayat Tahrir al-Sham, which will be more committed to the containment policies currently implemented."
Abu Omar al-Turkistani, a pseudonym for a leader of the East Turkestan Islamic Movement who resides in Idlib, told Al-Monitor, "We are not hostile to either the US or the West. We are hostile to China, which refused to grant us political rights. We came to Syria to support our Syrian brothers who were displaced and killed by the Assad regime that brought the Shiite militias from Afghanistan, Iraq and Lebanon to kill the Syrian [people]. In case the Syrians ask us to leave, we will certainly do so. What is important to us is the fulfillment of our Syrian brothers' demand that the Assad regime leaves."