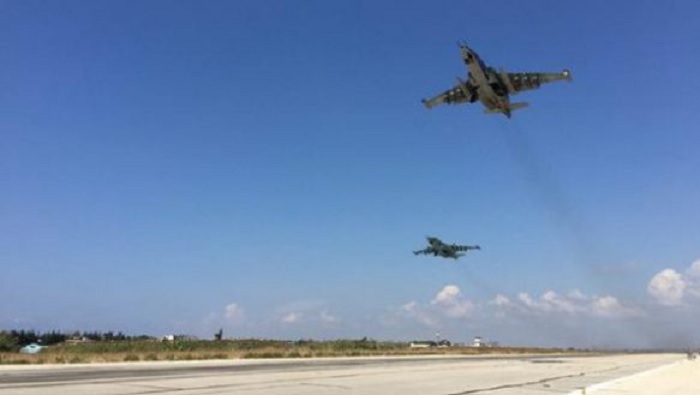 Russian fighter jets have executed several airstrikes targeting the hills of Kabani in Jabal Al-Akrad in the north-eastern countryside of Latakia. These airstrikes come after suspension of Russian aerial operations on the "de-escalation zone" for nearly 15 days.
Separately, members of "Al-Fateh Al-Mubin" factions fired a guided missile on a regime "mechanized digger", while erecting soil barriers on the frontlines of Afes town near Saraqeb city. Meanwhile, clashes erupted between regime forces and opposition factions, using medium and heavy weapons, on the frontlines of Kaddurah area in Jabal Al-Zawiyah, but no casualties have been reported.
A few hours ago, SOHR sources said that opposition factions operating in Latakia countryside shelled, with heavy artillery, regime positions in Tallat Al-Burkan near Kabani area in Jabal Al-Akrad in the north-eastern countryside of Latakia. Meanwhile, Russian reconnaissance drones were seen flying over the western countryside of Idlib and the Syrian coastline.
On the other hand, regime forces shelled positions in Sfuhen and Al-Fterah villages in the southern countryside of Idlib, but no casualties were reported.
SOHR sources reported earlier this morning that regime forces fired several rockets in the early hours of Thursday morning on the villages and towns of Al-Fterah, Kansafra, Sfuhen, Bayanin, and Al-Ruwayha in the southern countryside of Idlib, which caused material damage.
On November 13, Russian fighter jets executed several airstrikes using high-explosive missiles, targeting the western bushes of Idlib city, a few minutes after targeting the same area with a surface-to-surface missile fired by the Russian base of Hmeimim in Latakia countryside.