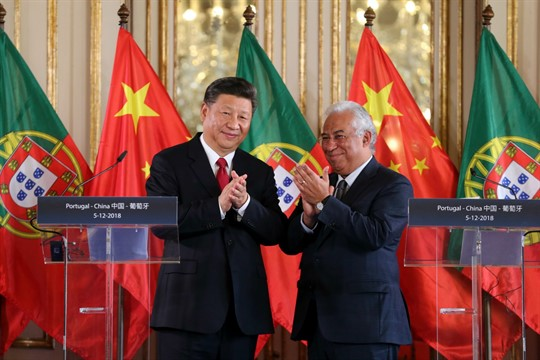 Jutting into the Atlantic Ocean 65 miles south of Lisbon, Portugal's Sines peninsula has long been recognized by foreign powers for its geostrategic importance. The Romans, Visigoths and Moors all established settlements alongside the natural deepwater port. Today, however, plans to redevelop the port have become the latest source of friction between the U.S. and China, suggesting that Portugal's diplomatic strategy of courting both rivals is running out of runway.
Sines is the closest port in mainland Europe to America's eastern shale basins. U.S. firms want to expand the port's liquid natural gas terminal in order to increase gas exports to the continent, which would also help reduce the European Union's energy dependence on Russia. In 2018, George Glass, the U.S. ambassador to Portugal, said that the proposed American investment in Sines would convert Portugal into "the Singapore of Western Europe."
But Beijing has its own plans for Sines. A proposed €640 million Chinese-built container port there is a key project in China's Belt & Road Initiative, the global infrastructure program of which Portugal became a member in December 2018.
As a result, the optimism Glass expressed two years ago has more recently been replaced by a sharper-edged tone. Speaking to Portuguese media in August, Glass warned that a Chinese container port at Sines would affect the U.S. "vision" for the port's development. Lisbon, he said, had to choose between its historical "ally"—the U.S.—and its Chinese "economic partners." He added that "this is not the same China that [Portugal] has dealt with for the last 500 years. This is a new China, with long-term plans for malign influence through economics, politics or other means."
The rather stark warning reflected not only U.S. concerns over Chinese ownership of key physical infrastructure in Europe, but also the wider ramifications of what Chinese leader Xi Jinping calls China and Portugal's "global strategic partnership." Few European nations receive such elevated status in Beijing's diplomatic pantheon.
"The objective of the global strategic partnership was not just to deepen the relationship between Portugal and China, but also to serve the strategic interests of both countries in Europe and the world," says Miguel Monjardino, professor of geopolitics at the Portuguese Catholic University. "Portugal gains the support of a power destined to play a crucial role in the 21st century. Beijing, on the other hand, acquires technologies and greater influence in Portugal's economic and diplomatic efforts around the globe."
It was from Sines that Vasco de Gama set out on the bold naval explorations that would convert Portugal into a global empire beginning in the 15th century. The legacy of that far-flung empire has afforded Portugal a geostrategic reach beyond its modest size and amplified its diplomatic leverage with major powers. The former colony of Macau, returned to China as a special administrative region in 1999, has been a bridge for bilateral relations with China. Meanwhile, Portugal's Azores Islands, located in the middle of the Atlantic Ocean, have hosted U.S. military bases since World War I and were a crucial factor facilitating Portugal's early accession to NATO.
"Portugal is a barometer of international politics. Small countries are always the first to feel the impact of the world's tectonic shifts."
In the aftermath of the global financial crisis of 2008, however, it was the Chinese who provided help in Portugal's time of need. Over the past decade, Chinese firms have paid generous sums for stakes in Portugal's state-run power generation and electrical distribution firms, as well as in private finance and health care companies. Portugal became one of the largest recipients of Chinese investment per capita in Europe. In the same period, the EU offered meager support in comparison, and the U.S. scaled back its military footprint—and, with it, investment—in Southern Europe, including at its Las Lajes Air Base in Azores.
"The legacy of the financial crisis in Portugal was devastating for the perception of the EU in the country," says Monjardino. "And there was a sense of abandonment from both of Portugal's political alliances due to the Obama administration's policies. The Portuguese government at the time welcomed China's investments, because they felt it gave them more foreign policy options."
In recent years Portugal has entertained China's proposal to establish a research station in the Azores and decided not to place limitations on Huawei's participation in its 5G network. In August, the state-owned China Communications Construction Company announced that it was in the final stages of purchasing a 30 percent stake in Mota Engil, Portugal's flagship engineering and construction firm with a large portfolio of infrastructure projects in Africa and Latin America.
"After the global financial crisis, China used its 'lender of last resort' status to increase its soft power in Europe," says John Deni, a professor at the U.S. Army War College's Strategic Studies Institute. "Beijing's strategic goal is to maintain Europe as a contested ground and to undermine solidarity on foreign policy issues. Chinese firms are also looking to acquire firms that give them a footprint elsewhere in the world, and to acquire technology or enter new markets."
With European nations, particularly in Southern and Eastern Europe, experiencing sharp economic downturns due to the coronavirus pandemic and requiring liquidity, the conditions look ripe for China to reprise the role it played after 2009. But it will be much harder this time, according to Deni.
Europe's stance toward China has hardened in recent years, he says, following instances of intellectual property theft by Chinese corporations, human rights abuses in Xinjiang and Hong Kong, and the Chinese handling and response to the COVID-19 pandemic. More stringent investment screening processes have been introduced, and in Brussels, Portugal's alleged economic dependence on China has attracted criticism.
Cozying up to China was once a surefire way to attract more attention from the U.S. and EU. But, increasingly, that attention comes with diplomatic costs rather than benefits.
Glass' heavy-handed comments in August were not well-received by the Portuguese press or political class. President Marcelo Rebelo de Sousa said it was "an obvious matter of principle that in Portugal, those who decide its destiny are the representatives chosen by the Portuguese [people] and only them."
Nevertheless, there is a dawning recognition that the strategy of the past decade, by which Lisbon played its relationships with the U.S., China and Brussels against each other for maximum gain, will not be an option much longer. "Portugal is a barometer of international politics," says Monjardino. "Small countries are always the first to feel the impact of the world's tectonic shifts. Sooner or later, circumstances and necessity will force us to make choices."