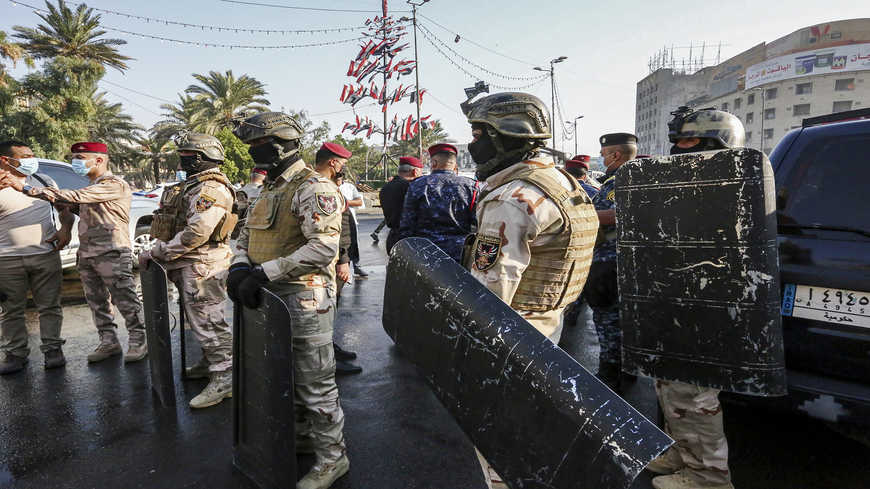 Iran is seeking to sell weapons and military equipment to Iraq through military cooperation agreements between the two countries, but Iraq is holding back.
Iraqi Minister of Defense Juma Inad paid an official visit to Tehran Nov. 14 in response to the invitation of his Iranian counterpart Minister of Defense Amir Hatami a few weeks ago.
Hatami said, "The Iranian Ministry of Defense is ready to beef up Iraq's defense capacities and provide the needs of the armed forces."
The Iranian chief of staff stated that, as part of the past military cooperation between the two countries, Iraq received military equipment from Iran. He said, "We will soon sign a comprehensive military agreement that involves the purchase of Iranian military equipment, joint military maneuvers and exchange of experience.
During the joint statements of the ministers of defense of both countries during their meeting in Tehran, Inad did not mention any request from his country for Iranian military aid or "provision of needs for the Iraqi armed forces," unlike the claims of his Iranian counterpart. He said, "We want to enhance the capacities of the Iraqi forces."
These urgent Iranian endeavors to offer to enhance Iraqi military capacities coincide with Washington's project to reduce the number of its troops in Iraq from 3,000 to 2,500 fighters.
Amid increased Iranian statements about creating armed military cooperation with the Iraqi forces, the Iraqi Ministry of Defense did not make any statements. Spokesman for Iraq's chief of general staff Yehya Rasoul did not respond to Al-Monitor's questions about the Iranian offer, and neither did the spokesman for the Iraqi Joint Operations Command, Tahsin al-Khafaji.
A brigadier general in the Iraqi Ministry of Defense told Al-Monitor on condition of anonymity since he is not authorized to make statements, "There is nothing official. Iran is a besieged country and has many problems. I do not think it is capable of enhancing the capacities of the Iraqi forces. Its statements are merely for media purposes."
Iran is investing in the end of the United Nations arms' embargo on it, and Hatami told the German DW website, "Many countries want to own our arms. We will definitely focus more on exporting rather than importing. Our weapons are cheap and effective."
Former adviser to the international coalition Kadhem al-Waeli told Al-Monitor, "Iran does not have any capacity to equip and help the Iraqi army. Iran's internal military force is collapsing due to US sanctions. The armed Iraqi forces have more developed weapons than the Iranian forces."
He added, "The Iranian armament and equipment offers are a Russian-Chinese-Iranian plan to find out about the arms reaching Iraq. If these agreements are made, Iran rather than Iraq would be the one benefitting. This is a smart ploy from Iran to further permeate into the Iraqi military institution."
A security commander told Al-Monitor previously that one cannot say that selling Iranian arms to Iraq is a new plan to be implemented now. The embargo on Iran did not prevent it from selling arms to Iraq. "In the war on the Islamic State [IS], Iran exported arms worth millions of dollars," he said.
Iran sold arms to Iraq for almost three years, from the first days IS controlled Mosul city June 10, 2014, until the end of the liberation operations in 2017. Iran did not stop passing weapons to its allied factions, before and after 2014.
Ironically, four Iranian institutions talked about the need to promote military cooperation with Iraq and support the needs of the Iraqi forces — the Islamic Revolutionary Guard Corps, the Ministry of Foreign Affairs, the Supreme National Security Council and the Ministry of Defense.
Fadel Abu Raghif, commentator on security affairs who is close to the Iraqi intelligence, told Al-Monitor, "The visit of Iraqi minister of defense to Iran resulted in an agreement to provide Iraq with all types of weapons."
He added, "Iran has excelled in its missile and defense capacities, in addition to its reasonably priced equipment. These weapons can be bought and invested in as future contracts."
Security officials in Iraq increased their visits to Iraq in the past weeks. On Nov. 5, an Iranian Ministry of Defense convoy visited Baghdad, and at the end of September, Iran's deputy chief of staff also visited the capital and met with high-ranking security officials.
During his meeting with the Iraqi minister of defense, Secretary of the Supreme National Security Council Ali Shamkhani focused on military cooperation between the two countries and the need to strengthen it. He tackled this issue more than once according to official Iranian information that indicates an Iranian goal to supply weapons to official Iraqi forces.
The Iraqi forces have weapons that helped them in the recent field battles against IS, which were mostly, if not totally, American, except for some combat forces that still use Russian Kalashnikovs. The Iraqi army's American weapons may be more sophisticated than Iranian-manufactured ones.
Iran's military perspective of Iraq mirrors its economic one apparently. It considers Iraq a consumer of arms due to its continuous operations against IS hideouts, and it can sell Iraq large quantities of weapons to help it develop its military economy.
Iran may want deals for supply, armament and military cooperation with the Iraqi forces, and it has allies in Iraq's parliament and elsewhere in the government who will back such a deal.
Iraq, however, will be cautious in deepening miltiary ties with Iran, whiich would concern the United States. In addition, no future military agreement to equip and support Iraqi forces by Iran is capable of developing the armed forces. Iran would have to permeate further the Iraqi military establishment, more than it already has.