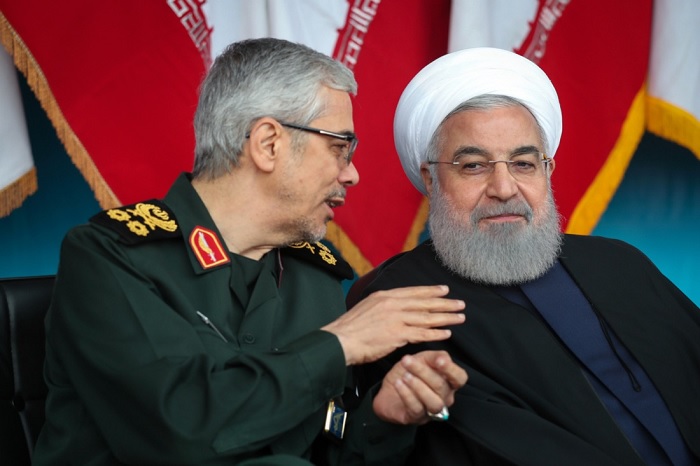 In May 2018, when U.S. President Donald Trump followed through on a campaign promise to withdraw the U.S. from the 2015 multilateral deal limiting Iran's uranium enrichment program, Tehran initially reacted by adopting a posture of strategic patience. But after European attempts to keep the deal afloat failed to deliver any respite from the U.S. campaign of "maximum pressure," and amid increasingly bellicose rhetoric out of Washington, Iran shifted gears.
Beginning in early 2019, Iran gradually announced a series of what it called reversible breaches of its obligations under the nuclear deal, exceeding limits on its stockpile of enriched uranium and the level to which it is enriched. By this March, the International Atomic Energy Agency, responsible for documenting Tehran's compliance with the agreement, reported that Iran's stockpile of enriched uranium had reached 1,000 kilograms—an amount that, if further enriched to much higher levels, provides enough fissile material for a nuclear warhead. The nuclear deal placed a verifiable cap of 300 kilograms on Iran's enriched uranium stockpiles.
Parallel to these moves to pressure the Trump administration over the nuclear deal, Iran began to dramatically ratchet up military tensions with the U.S. beginning in mid-2019. Washington blamed Iran for a series of attacks on oil tankers in the Gulf of Oman, prompting the U.S. to send additional troops to the region. Soon thereafter, Iranian forces shot down a pilotless U.S. drone they claimed was operating in Iran's airspace. And in September, the U.S. and Saudi Arabia accused Iran of being responsible for a drone and cruise missile attack on Saudi oil facilities.
Against that backdrop of heightened tensions, things came to a head in early January. After a series of violent incidents in Iraq pitting Iranian-backed Shiite militias against U.S. forces, Trump authorized a drone strike that killed Iran's top military leader, Gen. Qassem Soleimani, as he arrived in Baghdad. Fears of an all-out war were averted when Iran limited its riposte to a barrage of ballistic missiles that, while targeting U.S. troops based in Iraq, caused no further deaths. Both sides backed away from escalation, but without fundamentally addressing their differences.
The reimposed U.S. sanctions have forced governments and companies from Europe to Asia to end their economic engagement with Iran, with a particularly severe impact on Iran's oil exports. The resulting domestic economic tailspin has heightened social and political tensions within Iran. But rather than moderating the regime's behavior, the heightened pressure from Washington seems to have strengthened the hand of hardliners in Tehran, who emerged as the big winners from parliamentary elections in February.
Supporters of the Iran nuclear deal in Washington and Europe have hoped that the incoming administration of President-elect Joe Biden would quickly return the U.S. to compliance with the agreement by removing unilateral sanctions, while also pursuing follow-on talks to address Iran's missile program and regional behavior. But the Trump administration and Israel seem intent on complicating matters for Biden before he takes office. A series of mysterious explosions over the summer at Iranian military facilities, nuclear installations and power stations had many observers wondering if the U.S., Israel or both were involved in a covert campaign of sabotage. More recently, a top Iranian nuclear scientist was assassinated in what most observers believe was a particularly audacious covert Israeli operation on Iranian territory. Whether and how Iran responds to these provocations could hamstring the Biden administration's efforts at diplomatic engagement.
The deterioration in U.S.-Iran relations takes place against the backdrop of a battle for regional influence between Iran and Saudi Arabia, including proxy wars in Yemen and Syria, as well as strategic competition in Lebanon and more recently Iraq. Amid it all, the Iranian population is increasingly caught between the pressure of sanctions from Washington and the authoritarian repression of the regime in Tehran. And the coronavirus pandemic has exacerbated the hardships they face, while doing nothing to reduce tensions with Washington.
WPR has covered Iran in detail and continues to examine key questions about what will happen next. What's in store for U.S.-Iran relations under Biden? Will Iran strengthen its ties with Russia and China to counter American actions, and what role will Europe play? Will outside pressure, combined with the impact of the pandemic, undermine the regime's domestic control? Below are some of the highlights of WPR's coverage.