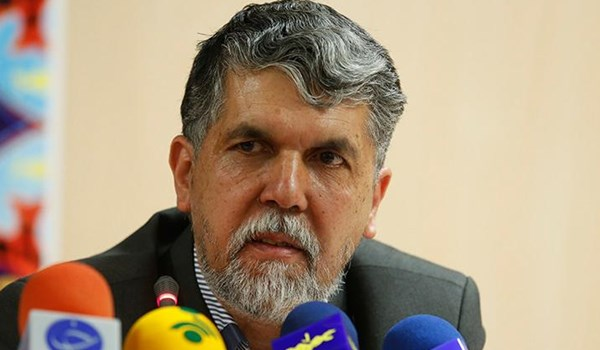 Iranian Minister of Culture and Islamic Guidance Abbas Salehi said that Israel is the source of unrest, wars and assassinations in the region, urging the regional nations to unite for attaining all-encompassing peace.
Salehi said that the Zionist regime is the center of all regional crises including wars, violence and official and unofficial acts of terror, and stressed the importance of developing comprehensive peace through creating coalition by all active groups and regional players.
He made the remarks at an online international seminar on peace and human rights in West Asia on Friday.
Salehi said Iran has extended the hand of friendship toward regional countries for establishing peace, security and stability while the US and Israel are trying to stir crisis in the region by creating rift and by taking advantage of terrorist and Zionist groups.
"US presence has had major role in regional divergence," he reiterated.
The minister also pointed to assassination of top Iranian nuclear scientist Mohsen Fakhrizadeh as an example of warmongering in the region.
He went on to say that Al-Qaeda, ISIL and similar groups have completely twisted the Islamic teachings, waging hatred and war in the region.
In relevant remarks on Friday, Iran's Foreign Ministry Spokesman Khatibzadeh, in a statement, felicitated the third anniversary of defeating ISIL terrorists to the brotherly Iraqi nation, and meantime, called for global vigilance toward the revival of this terrorist inhuman group by overt and covert supports of some powers.
"This victory was the result of the firm resolve and unified efforts of Iraqi nation, government and security forces with the support of the great Source of Emulation Ayatollah Sistani," he said.
"Iran has always stood by Iraq and it will spare no effort to help bolster unity, security, stability, and development of Iraq," the spokesman went on to say.
"We witnessed how the blood of the two countries' martyrs intermixed in this sacred battle," he said, adding that the empathy between the two nations culminated in the assassination of General Qasem Soleimani and Abu Mahdi al-Muhandis, the leaders of the fight against terrorism.
"The ISIL militants conceded defeat, but still Takfiri, anti-human, terroristic ideology and covert and overt support for it lingers in the region and beyond," Khatibzadeh said.