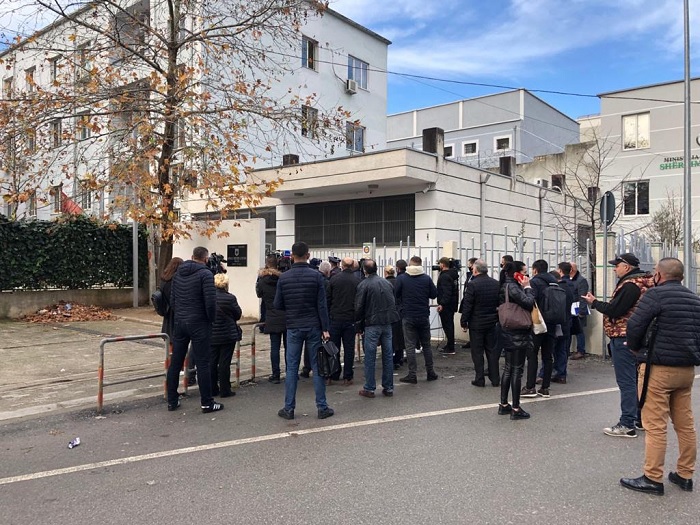 Parents of the youthful protesters arrested during the latest anti-government rallies are hunting in police stations across Tirana for their children – some accusing the police of making arbitrary arrests.
Emin Basha, uncle of Ibrahim Basha, a police officer killed on duty while fighting drug lords in southern Albania four years ago, is searching for his son who went missing days ago.
Police in Albania have arrested hundreds of young protesters after five days of clashes and protests sparked by the fatal shooting of Klodjan Rasha, an unarmed 25-year-old, on December 8.
Police conducted the arrests after facing an army of angry teens, some of whom had thrown stones and vandalized traffic signs or burned garbage bins.
However, Basha does not believe his son could have stoned the police, pointing to his family's close connection with the force.
"There is no way my children would attack the police … They would have to attack my nephews; they are also officers," he told BIRN.
Shkelqim Q, 55, came directly from construction work, still in his work clothes stained by mortar and lime, and stopped his old motorcycle at the gates of the Police Station number 3 in Tirana.
He is also looking for his son, Eljan, arrested last Thursday, after the first night of the protests. The desk officer told him he hadn't heard of the surname.
After Shkelqim refused to leave, begging for an answer, the officer dug into his pockets to find several bits of papers. One was a list.
"I don't have this surname on the list," he said, reading out several other surnames. But he added that some of those arrested had been sent to Kavaja, 60 km from Tirana. "We are full here," he added.
Shkelqim insisted that his relatives had already told him that his son was not in Kavaja either.
After asking in several police stations and at the General Directorate of Police for the Tirana region, he went to the city court, hoping to see his son there.
Eljan, 20, works in a paper factory in Tirana. He was one of those scheduled to appear at the court for validation of his arrest order.
However, after waiting at the court for hours, his father was unable to find out if he was there. He insists his son wasn't involved in protests and was just strolling around with his friends after a shift.
"My son started work very early," he said, looking in disbelief at the idea that his son could have hurled stones at police officers.
Near Tirana's Penal Court, BIRN met dozens of other anxious parents and relatives, all waiting to know what was going on with the teens.
Police had surrounded the court since early that morning and it was impossible to know who among the arrested would appear that day, or be kept under arrest. Scores of parents left the area after 3pm, unable to learn more.
Some of them told BIRN they had heard that, due to the number of arrests, the police stations in Tirana were full, so scores of them had been shipped to other towns, like Kavaja, Elbasan or Durres. All of the parents said their children were arrested without due reason.
Margarita Kola, a defence lawyer for two of those arrested, told BIRN that the police broke the law by not informing the families of those in detention – and that she also had no information about when her clients would appear in court.
"The families have not been informed and, as scores of them are minors, this is a gross violation of the law," she commented.
Several lawyers are offering free legal aid to those arrested, as police face allegations of using excessive force and randomly stopping protesters – some claiming that participation in a protest per se broke the law, regardless of whether any violence occurred.
On Monday, police issued a statement warning that, due to the COVID-19 pandemic situation, all protests would be considered illegal and they would not tolerate any rallies for whatever reason.
"The police is well aware about the right of protest," the statement read.
But, it added: "Since the protests degraded into rallies that aimed to damage public order and public property, the State Police will not tolerate any longer any rally that infringes current [pandemic-related] limitations," it adds.
Parents can't believe their kids used violence
Police stopped about 85 youngsters on Friday and Saturday, about 17 of whom have appeared in court.
Prosecutors demanded arrest measures for six. The court refused three of these, confirming the arrests of three protesters found in possession of violent tools. Nine were freed pending trial and five were ordered into house arrest. Three of those arrested were minors. The oldest was 25.
Defence lawyers point out that there were no videos or photos confirming the violent acts of those arrested, only police reports that they called "untrustworthy".
One of those arrested was accused of breaking the law on weapons after being found being found with a brass knuckle.
Margarita Kola told BIRN that one of her clients was "a very good pupil at school and had been charged with blocking road traffic" during a protest.
The other was found in possession of a wooden stick. However, Kola says there is no proof he used the stick. Both were freed pending trial.
As the teens appeared in court, dozens of police officers threw a security cordon across the area as special forces in full gear stood by.
Usually, lawyers and family members obtain court information at the lobby of the building where screens show the court schedule.
This was not possible on Sunday, when police blocked the entrance. Lawyers and family members had to wait for hours to find out whether their client or son's name would be called.
Emin Basha was among them. After waiting eight hours, the court closed and his son's name still wasn't called. Police first stopped two of his sons but freed one on the same night.
Angered, Basha accused the police nearby of servility. "Dear officers! You should not allow yourself to become tools in the hand of those in power. You should be police at the service of the state," he said.
Some of the family members claim their relatives were arrested just for being at the wrong place, and did not participate in any protests.
The sister of one of these waited in vain for her brother at the Police Station No 3 in Tirana.
"He has done nothing to be kept in a cell. He found himself in the wrong place at the wrong time," she told BIRN, refusing to be quoted by name, fearing that her brother could lose his job.
A woman who gave her surname as Ndregjoni told BIRN that her 18-year-old son was arrested after finishing his shift as a food deliverer at Toptani shopping centre in Tirana, which was the site of a protest.
She learned about the arrest the next morning and went to search for him in several police stations, having been told that he was in Durres or in Elbasan.
Two minors told BIRN they were also stopped without reason and freed after half-an-hour at the police station.
"We came out of the barber shop and saw some others nearby who had flares in their pockets. We didn't have anything to do with that, but an officer lashed out at me," one said, claiming the officer was in plainclothes and did not explain why they were being stopped.
Among those arrested was also Xhemil Xhani, a journalist working at Koha Jone newspaper.
He was arrested while following the clashes near his newspaper. He was freed after being detained overnight and wrote that he saw some 50 people standing in an overcrowded space in the police station.
He was referred for prosecution for participating in an illegal protest – an allegation he denies.
On Sunday, Albania's Professional Journalists Association urged Ardi Veliu, the General Police Director, and the Prime Minister, Edi Rama, to condemn police violence towards journalists. "
We call on the chief police and the Prime Minister to publicly condemn cases of violence against journalists during the protests, and call for a swift investigation," the statement reads. By the time of publication, no response had been received.
Angry young blame parents' passivity
Aldo and Erald are both 19 and full of hate for everything around them; politics, the media and the police – especially the police.
They and four others wearing track suits were waiting at a distance from the court in Tirana for an arrested friend.
"There is no hope. This country isn't going to be good," Erald said in the Tirana dialect. He claims he joined a protest because the police had "made their life unbearable".
"As soon as they see you, they start following you," he said, swearing and spitting.
Asked whether the police had actually beaten them, or somebody they know, his friend dismissed the idea. "They wouldn't dare with us," Aldo said. "They know who to beat," he added. "They beat those without connections."
They blame their parents' generation for the country's state, because of their failure to speak out. "Politicians are robbing this country but there isn't much protest," Erald said.
He said the only reason he had not left the country already was because the borders remain closed due to the pandemic. "What one can do in this country with salary of 220 euros a month?" he asked.
Sabire Hoxhaj, mother of 23-year-old student Emiraldo Hoxhaj, waiting for him to appear at court, told BIRN that her son had not used violence, and his arrest was a violation of his civil rights.
"My son is a student and has the right to protest," said Hoxha, a math teacher and former mayor of Fratar for the opposition Democratic Party. She denied her son had used violence. "I know my son, he would never damage public property," she added.
Albania does not have a long history of vandalism or a culture of police violence. After the fall of Communism and the troubles of early 2000s, the police regularly beat protesters, but then matters were reformed.
However, five continuous days of protest have shown things have gone back in the wrong direction.
On Sunday evening, hundreds of youngsters marched again in Tirana. The protest continued peacefully for two hours until, at one crossroad, they faced police in full gear.
One of the protesters threw a stone at the water cannon truck. Police responded with tear gas, scattering the protesters.
Perhaps aware of the bad PR they received in previous days as a result of footage showing angry officers arresting scared teens, they refrained from using their batons. A BIRN reporter overheard one officer reporting by radio: "We haven't touched anybody yet."