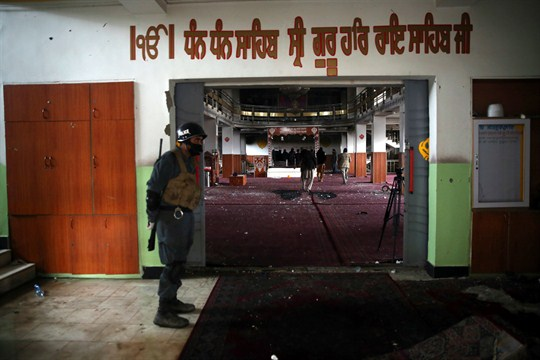 The Islamic State's deadly assault on one of the last remaining Sikh temples in Afghanistan this week was a grim reminder of how much more devastation lies ahead as the U.S. drawdown continues.
Wednesday's attack by gunmen affiliated with the Afghan branch of the Islamic State, known as the Islamic State in Khorasan Province, reportedly killed more than 25 people and wounded scores gathered for services at the temple in Kabul. It appeared to be the latest effort by the Islamic State to leverage existing ethnic and religious enmity in order to gain a bigger foothold in Afghanistan, amid widening competition with the Taliban, fractures in the Afghan government and growing political chaos in Kabul.
Unfortunately, neither the United States, nor its NATO and Afghan government counterparts, are well-positioned to do much about the Islamic State's escalation of violence. And nor, for that matter, is the Taliban, despite reports earlier this month that American forces are lending a hand to their erstwhile Taliban adversaries in fighting the Islamic State. Attacks on religious and ethnic minorities have spiked in Afghanistan; this week's violence marked the second major attack on a Sikh temple there in the past two years. It was also the second assault by the Islamic State on a minority group gathering in Kabul within the past month. On March 6, gunmen suspected of being affiliated with the jihadist group opened fire on a crowd gathered for a ceremony marking the death of a prominent leader of Afghanistan's predominantly Shiite ethnic Hazara community.