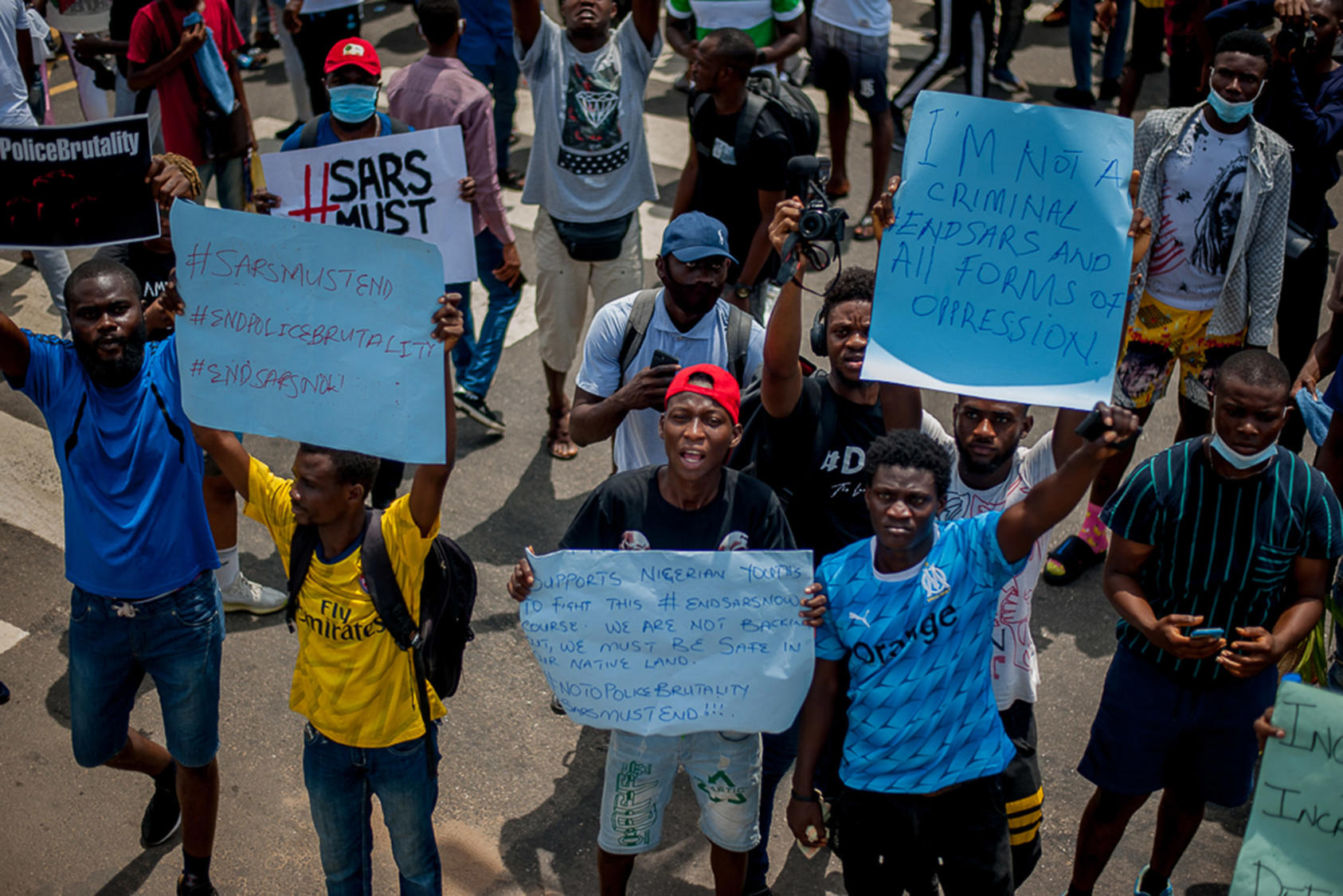 At first glance, the October killings of protesters by security forces in Nigeria's largest city, Lagos, seem to have little in common with the November Boko Haram massacre of at least 43 farmers in Nigeria's northeast, or the December 11 abduction of hundreds of school students in Katsina State. With vastly different circumstances, motivations, and perpetrators—and separated by hundreds of miles—all three episodes could easily be recorded as just further tragic installments in Nigeria's long history of violence. However, these incidents underscore the wider failure of the state to provide security for its citizens, only deepening the trust deficit felt by Nigerians.
EndSARS and the Cycle of Nigerian State Violence
The most recent EndSARS protests in Lagos started in early October with a clear aim: to call for the dissolution of the Special Anti-Robbery Squad (SARS), a unit of the Nigerian police ostensibly tasked with fighting violent crimes. In reality, SARS was a force better known for its own brutality and criminality, including extortion, torture, and extrajudicial assaults and killings.
Protests quickly spread to other cities throughout the country. By October 13, the Nigerian Police Force announced that SARS would be replaced by a new unit, to be known as the Special Weapon and Tactics Team. The announcement was widely criticized as merely cosmetic, failing to respond to the systemic abuses by state security agents.
On October 20, peaceful protesters occupying the Lekki toll gate on a major Lagos highway were fired on by men dressed in military camouflage, killing at least a dozen people. Eyewitnesses identified those shooting as soldiers, but the army denied responsibility for the killings.
However, there are clear indications that the incident was premeditated, with both closed-circuit cameras and street lighting being turned off just before the shooting started. A judicial panel is now investigating the killings. Unfortunately, this is not the first time such a panel has been convened in response to police or military killings of civilians. The government's record of implementing recommendations arising from such inquiries has been poor, and it is unclear if this panel's findings and recommendations will fare any better.
Vulnerability to Boko Haram and Other Violent Actors
On November 28, just over a month after the state-led killings in Lagos, at least 43—and perhaps as many as 70—agricultural workers harvesting rice were brutally murdered in Jere in Nigeria's northeastern Borno State. The United Nations described the event as "the most violent direct attack against innocent civilians this year … one of too many such attacks targeting farmers, fishermen and families who are trying to recover some livelihood opportunity after over a decade of conflict."
In response, the state governor called for increasing military and paramilitary recruitment, as well as providing more equipment to the national police and military, engaging foreign mercenaries to fight Boko Haram, repatriating Nigerians displaced to neighboring Cameroon and Niger, and greater regional cooperation among Lake Chad Basin states. Meanwhile, presidential spokesperson Garba Shehu implied that the farmers were themselves partly to blame for their own deaths, in a statement that was widely condemned.
Then, just last week, more than 300 students were abducted from the Kankara Government Science Secondary School in Katsina State in the country's northwest. This latest abduction inevitably invites comparisons to two other mass abductions from Nigerian schools: the 2014 abduction of 276 girls from Chibok Secondary School in Borno State, which sparked the "Bring Back Our Girls" campaign; and the 110 girls abducted at the Government Girls Science Technical College in Dapchi, Yobe State, in 2018.
While Nigeria ratified the Safe Schools Declaration in 2015—an intergovernmental political commitment to express support for protecting students, teachers, schools, and universities from attack during times of armed conflict; the importance of the continuation of education during armed conflict; and the implementation of concrete measures to deter the military use of schools—little has been practically done to address the vulnerabilities Nigerian schools face.
The Katsina school attack demonstrates the potential for Boko Haram to open a second front in the northwest. The northwest faces three key vulnerabilities: First, areas along the Nigeria-Niger border can easily serve as places where the group can take refuge. Second, in many parts of the northwest, the state's absence has long been felt, allowing Boko Haram a foothold to maneuver. Third, poverty, disillusion in the state, and a lack of economic opportunity make the region fertile ground for further mobilization and recruitment.
A Common Denominator: Nigerians Lack Trust in the State
In any case, while strengthening military and police capacity may well be required to fight Boko Haram, technical recommendations and commitments overlook a broader truth, in common with the Nigerian government's response to the EndSARS protests: It is a lack of trust motivated by the state's consistent failure to provide security for its citizens—whether by omission or commission—that is at the root of the problem.
There will never be enough police or soldiers to protect every place of learning in Nigeria for every hour of every day. Militarizing and securitizing schools is not the solution. Nor will reforming the police service be sufficient to address the more fundamental reality of the state's failures. As two USIP-commissioned surveys conducted earlier this year reconfirmed, only 3 to 3.2 percent of the more than 10,000 respondents felt the Nigerian police was the institution in which they had the "most confidence to address insecurity and violent conflict in Nigeria." In isolation, marginal improvements to the name and functioning of police units, police personnel, and equipment are not going to alter these deeply held perceptions of Nigerians. Still, there are numerous opportunities for incremental change and reforms in many communities on important issues such as gender-based violence.
Every time a school abduction or a mass killing happens, Nigerians wring their hands and ask what can be done—and wonder which community is next to be attacked by terrorists, bandits, or the state. As a consequence, it is no surprise that when the survival of citizens seems to hang in the balance, many individuals and communities will take on the task of protection themselves and discount the state, despite the constitutional limitations against militias, vigilantes, and self-defense groups.
To many Nigerians, it seems the state can be strict in enforcing the law against communities or peaceful protesters, while bandits and terrorists operate with impunity. This contradiction raises the profound question of the purpose of the Nigerian state. When episodes of mass murder—whether committed by Boko Haram or the Nigerian police or military—become banal, trust in the state cannot be built. Rather than shifting the blame to the victims or their communities for their undeserved fates, the Nigerian state needs to demonstrate it is worthy of the trust of its citizens.