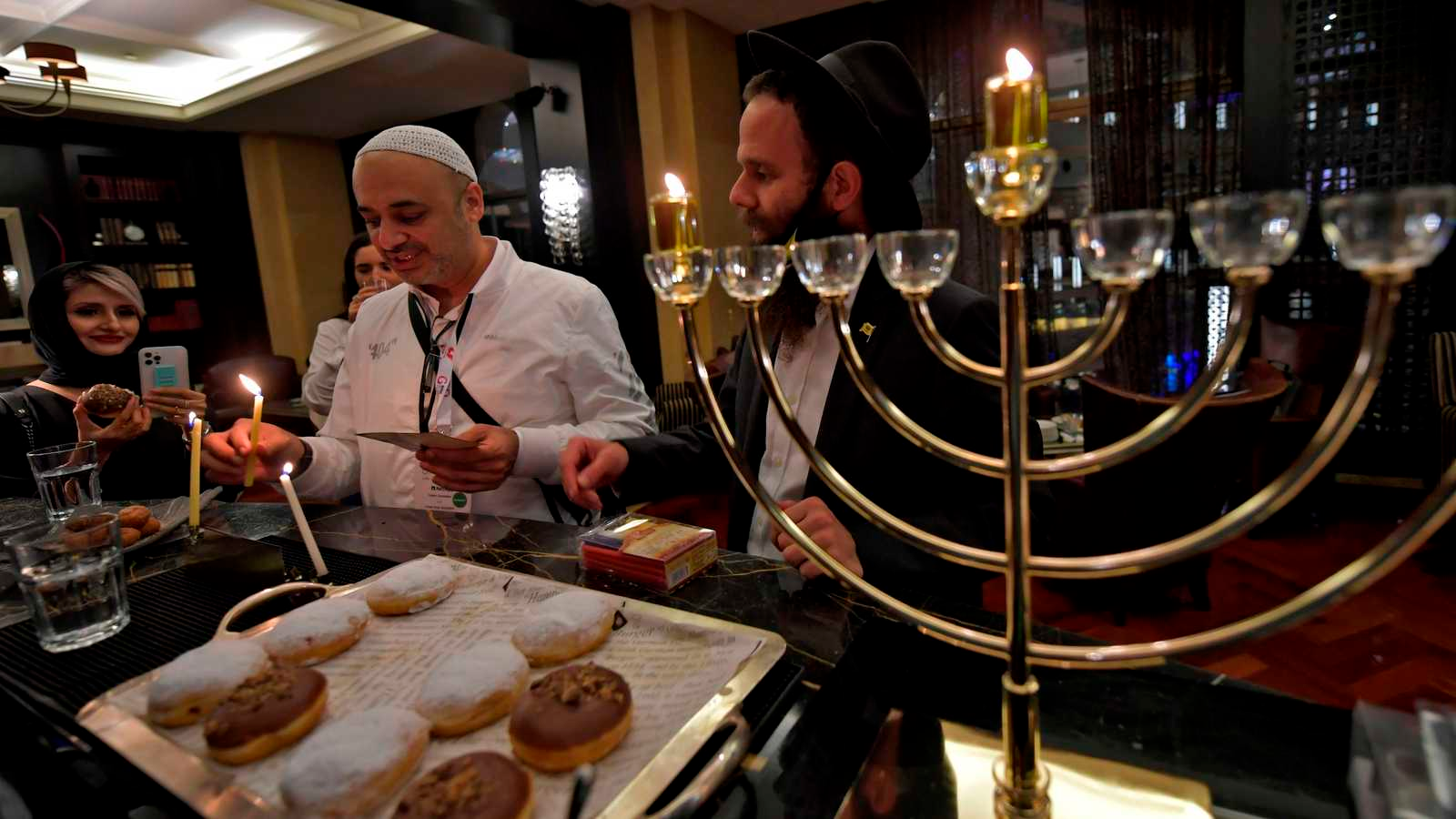 Sephardic Chief Rabbi of Israel Yitzhak Yosef paid a historic visit this weekend to the United Arab Emirates, inviting several ministers to visit Jerusalem.
Israel's Sephardi Chief Rabbi Yitzhak Yosef visited the United Arab Emirates this weekend. The rabbi traveled to the Emirates on Thursday and spent the Sabbath there, coming back on Sunday. He visited both Dubai and Abu Dhabi in the first-ever visit by a sitting chief rabbi to an Arab country.
Yosef was hosted by the small Jewish community in Dubai. Prior to his visit, the community said in a statement, "During his visit, he will meet with senior Emirati officials, inaugurate the newly certified Jewish [nursery] school and, in a special ceremony, invest Rabbi Levi Duchman as rabbi of the Emirati Jewish community."
Shortly after his arrival, the rabbi met with a series of Emirati officials and members of the royal family, including Minister of State for Tolerance Sheikh Nahyan bin Mubarak Al Nahyan and Minister of Federal National Council Affairs Noura bint Mohammed Al Kaabi.
The rabbi reportedly thanked his hosts for safeguarding freedom of religion in their country so that Jews can practice their religion freely. He told them about his father, the late Rabbi Ovadia Yosef, who was born in Iraq and served for a period as rabbi and religious judge in Egypt. Ovadia Yosef offered an example for inter-religious coexistence, with Jewish life thriving alongside other religions.
Yoself also asked his hosts for their assistance in promoting peace and normalization agreements between Israel and other Arab and Muslim countries. He emphasized that Israel champions freedom of religion and invited the ministers to visit Israel.
On the practical side, the rabbi and the ministers discussed possibly establishing a Jewish cemetery in the Emirates, building synagogues in the other states of the Emirates (synagogues already operate in Dubai and in Abu Dhabi) and enlarging the kosher food offerings and certification there. Before the formal signature ceremony in mid-September on the normalization agreement, hotels and restaurants in the Emirates had already started exploring serving kosher food for Israeli and Jewish tourists and visiting businesspeople. The ministers invited the rabbi to visit the site of the future Abrahamic Family House, a unique interfaith complex that will house a mosque, a church and a synagogue.
The rabbi also inaugurated a newly built Jewish school in Dubai and officially opened the community's new daycare center. He visited a new kosher restaurant in the city's famed Burj Khalifa skyscraper and inaugurated a new synagogue in the Emirati capital of Abu Dhabi.
Yosef is the most senior Israeli official to visit the Emirates so far. Prime Minister Benjamin Netanyahu was scheduled to visit the country three weeks ago, but the visit was postponed for technical reasons. According to reports, Netanyahu might soon leave on a combined Emirates-Bahrain visit. Only after his visit is complete will Foreign Minister Gabi Ashkenazi embark on a similar trip, perhaps inaugurating Israeli embassies there.