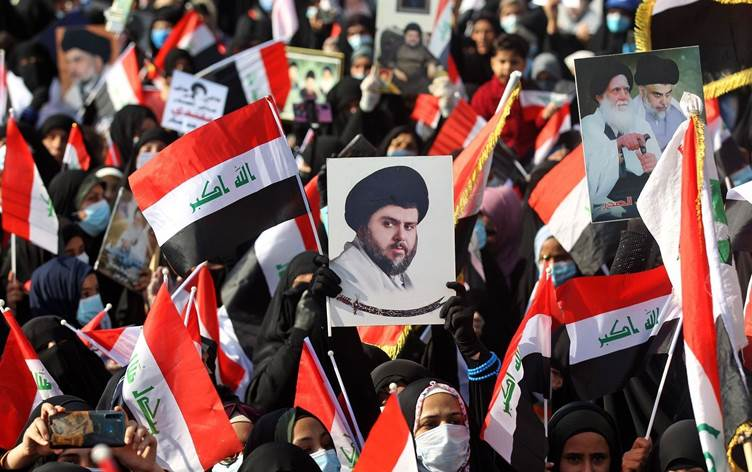 A Nasiriyah activist has accused supporters of Shiite cleric Muqtada al-Sadr of targeting his home in an IED attack early on Thursday morning.
"I had just returned to Habboubi Square when I got a call saying my house had been hit with an IED," activist Wali Jabar told Rudaw English on Tuesday.
"My father was sleeping in the living room and we had to rush him to the hospital, but he is good now," he said, saying his home was not heavily damaged in the attack.
Jabar said the incident took place at 1 am, claiming fellow activist Karrar Alazerjawi's house was targeted at exactly the same time.
"To be honest with you, this is all the doing of the Sadrists, for they think of us as a threat," he said. "They even accused me of firing at them when they attacked Habboubi Square, which is far from true."
Rudaw English contacted a coordinator from Muqtada al-Sadr's office for comment on the allegations, but received no response.
Sadr initially backed the nationwide protests that began in October 2019, with his supporters – also known as the 'blue hats' – protecting demonstrators from armed pro-government forces. However, Sadr later withdrew his support for the protests.
Nasiriyah has witnessed significant bloodshed since demonstrations began – particularly in Habboubi Square, a hotspot for anti-government demonstrations in the city.
Protesters in Habboubi Square were attacked by Sadr supporters in late November, leaving at least seven people dead and scores wounded. Protesters returned to resume demonstrations and rebuild their tents a week later.
Protesters in Baghdad have previously spoken of torture at the hands of Sadr's militia, Saraya al-Salam, or the Peace Brigades.
Eleven people died and more than 200 were injured after Sadr supporters stormed a Najaf protest camp in February.
"These people have a history of bloodshed and dirt and they try to suppress protests," Jabar said, saying he has received "multiple" threats on his life in the past.
"We are people of dignity and honor, and we will stand our ground no matter how much they try to suppress us, these threats will mean nothing to us," Jabar said.
Activists and journalists have frequently been killed and threatened with violence by armed groups since the protests began.
Prominent Iraqi civil activist Salah al-Iraqi was shot dead by masked men on December 15 near Baghdad's al-Jadida district.
Activist Akram Adhab was shot by masked men in the Iraqi capital less than three weeks earlier, a day after criticizing the Popular Mobilization Forces-linked Rab'Allah militia on social media.
More than 600 people have been killed and around 18,000 injured in clashes between protesters, security forces, and pro-Iran militias, according to Amnesty International.