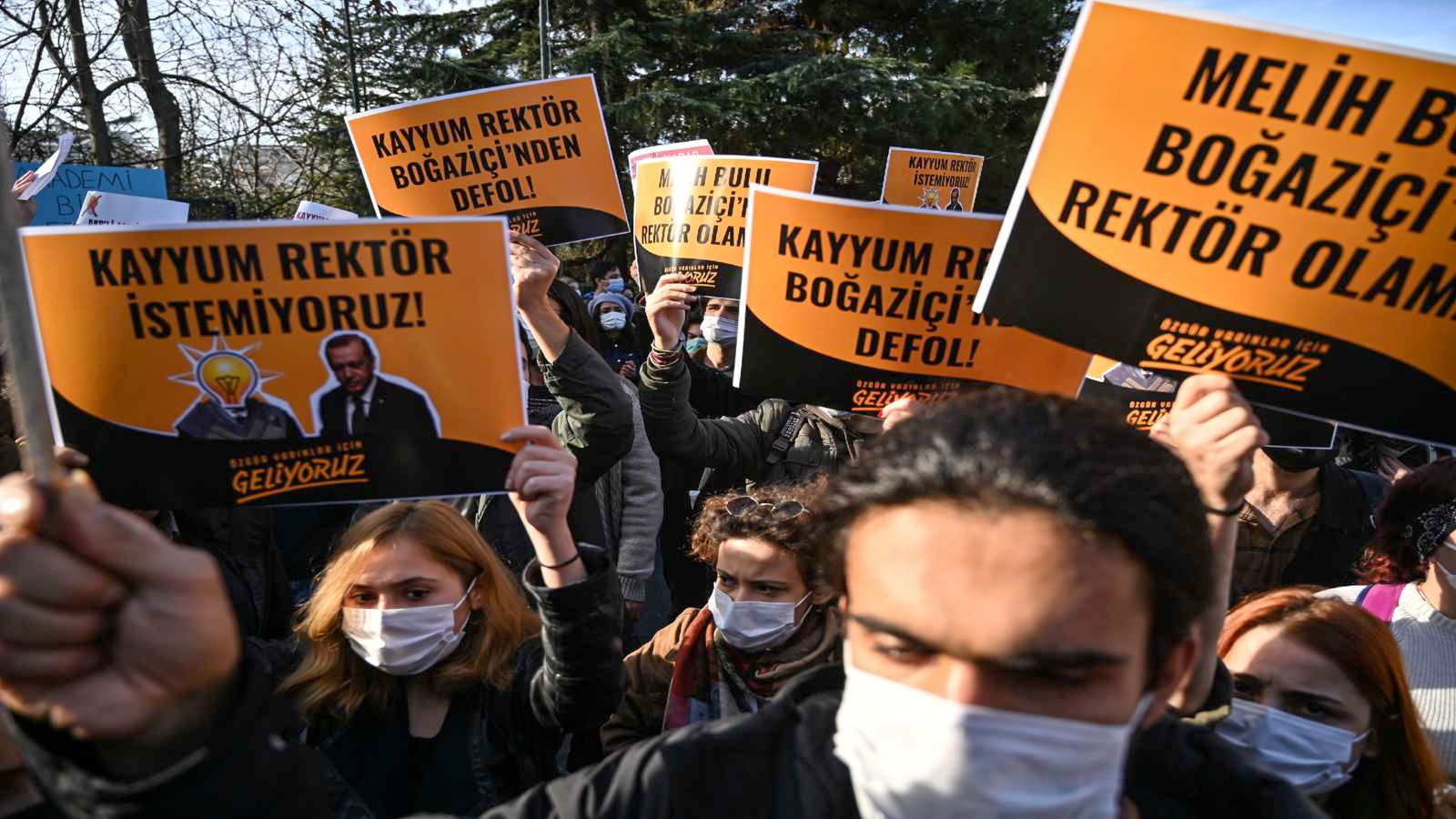 Students and faculty members decried infringements on academic independence during protests Monday after a member of Turkey's ruling Justice and Development Party (AKP) was appointed by presidential decree to head one of the nation's top universities.
Turkish students protesting the political appointment of a ruling party member to head one of the nation's top universities were met with chemical irritants and rubber bullets in Istanbul Monday.
Riot police dispersed demonstrators outside Bogazici University, where Melih Bulu, a long-time member of the ruling Justice and Development Party (AKP), was appointed as school rector by a presidential decree issued Jan. 1.
The move has been condemned by students and faculty members in Turkish academia as an infringement on institutional independence and has sparked concerns over the increasing politicization of university administrations across the country.
"A politician as a rector, appointed by presidential decree, is unacceptable," Zeynep Kurbanzade, a first-year political science student at Bogazici University, told Al-Monitor. "It is not democratic in any way."
Kurbanzade joined protests Monday at the university's south campus, where she said she was impacted by chemical irritants used by police to disperse demonstrators. Some protesters at the scene were detained by security forces. Kurbanzade said students have begun organizing additional protests for the coming days and were considering boycotting online courses as face-to-face classes have been temporarily halted due to COVID-19 restrictions.
"Normally, a rector should be elected by academics or students," Kurbanzade told Al-Monitor.
While many of those opposing Bulu's appointment cited his lack of academic credentials to head one of the nation's most prestigious universities and reported accusations of plagiarism in his research, which Bulu has called "lies," protesters mainly condemned the method in which he assumed the role of university rector.
Under the guidelines of Turkey's Council of Higher Education (YOK), rectors are chosen from a pool of candidates with the highest votes following elections held within academic institutions. This practice was first paused after a 1980 military coup in Turkey, then reinstated in the 1990s before being once again shelved in the aftermath of a 2016 coup attempt under a state of emergency rule.
Following the 2016 failed putsch, President Recep Tayyip Erdogan appointed Mehmed Ozkan to head Bogazici University by presidential decree. The move was equally met with protest at the time, but faculty members said Ozkan was vice rector at Bogazici, whereas Bulu is being appointed from outside the university administration.
"Now we are getting someone who's alien to the university … and his only credential is being a member of Erdogan's party," Faruk Birtek, a former professor and chair of the Sociology Department at Bogazici University, told Al-Monitor.
Though Bulu completed his master's and doctoral work at Bogazici, he was a parliamentary candidate for the AKP in 2015 and is considered by protesters to be an Erdogan loyalist, as he has been involved in party politics since the AKP's founding in 2002. In 2016, Bulu served as president of Istinye University until he was appointed to head Halic University in January 2020.
In a Jan. 3 statement, Bogazici faculty members said Bulu's appointment was "yet another case of many ongoing anti-democratic practices since 2016 aiming at abolishing rector elections." The Bogazici University Alumni Association also published a statement this week condemning the move.
"We do not accept the interventions made in the principles of our university, freedom of thought and will of choice," the association said.
In response, Bogazici students have begun social media campaigns under the hashtag #kayyımrektöristemiyoruz, or "we don't want a trustee rector." Amid the backlash, Bulu posted a statement titled "Hello Bogazici" to his Twitter account in which he lays out his vision for the university, saying he hoped to increase the school's global ranking and encourage entrepreneurship.
The latest protests at Bogazici follow 2018 demonstrations against Turkey's military operation in the northern Syrian district of Afrin in which dozens of students were detained and 27 were eventually given jail sentences for "spreading terror propaganda."
Gunes Engin, a graduate student in the political science and international relations departments at Bogazici University, said she did not expect the current protests to reverse Bulu's appointment but noted the school had a long history of upholding institutional independence and the academic community would continue its efforts to curb political influence on the nation's campuses.
"I don't expect a large reaction from other universities because we don't have the tools to react," Engin told Al-Monitor. "Because of the oppressive policies of the AKP, people are very afraid."
Engin added circumstances would remain difficult in the coming years, but she said political dynamics could change in the long run.
"We are very committed to the values we are defending … one day we believe democracy will be established again," Engin told Al-Monitor.