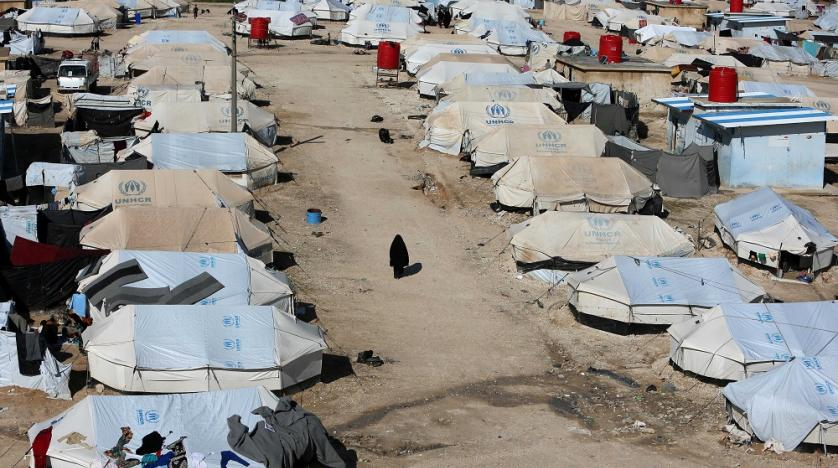 With their husbands having been dealt a blowing defeat by the US-led International Coalition and the Syrian Democratic Forces (SDF), dozens of ISIS wives now face the challenges of living in Syrian refugee camps.
Al-Hol camp, located in northeastern Syria near borders with Iraq, hosts crowds of women and children who traveled thousands of miles away from home to be with their husbands, brothers and fathers who had joined the ranks of the terrorist organization in the Levantine country.
Today, ISIS wives and children face the tough reality of their husbands and fathers having been killed or locked away for trial at a time most Western and Arab countries are refusing to repatriate nationals who had joined the terror group in Syria.
Jawaher, a 45-year-old Syrian national from the central Hama city, is an ISIS wife currently staying at al-Hol. She, like many of her fellow women at the camp, is refusing to leave before knowing the fate of her husband, who has been arrested by SDF authorities.
"My husband, an ISIS employee, voluntarily surrendered to the SDF during the battle of Baghouz. It's been over 22 months since I last heard any news of him. I requested visitation rights yet with no avail," Jawaher dressed in a black niqab told Asharq Al-Awsat.
"We will not leave before knowing the fate of our husbands, brothers and sons," she shouted alongside a crowd of ISIS wives who gathered in front of the camera.
First established during the second Gulf War in the 1990s, al-Hol camp is built to receive a maximum of 20,000 people.
Significantly overcrowded, the camp hosts today over 60,000 individuals, most of whom are displaced Syrians and Iraqi refugees. It also includes a special section for immigrant women, where nearly 12,000 females of 52 Arab and Western nationalities are kept.
Onoud, 27, is an Iraqi national who could not hold her tears back while telling the story of how she ended up at al-Hol.
"I was a 17-year-old girl when my father decided to join ISIS. I was first married off to an Iraqi fighter who was killed a few months later, then I married a Moroccan fighter. After my second husband disappeared (likely killed), I married an Iraqi who is 30 years older than me," she recounted, blaming fate for what had happened to her.
She went on to complain about the dire living conditions ISIS wives suffer from at al-Hol, which she said now resembles an "isolated state."
In this closed off camp, women and children endure a bitter life and struggle to secure bare necessities for survival, all while waiting patiently to know what happened to their husbands and fathers.