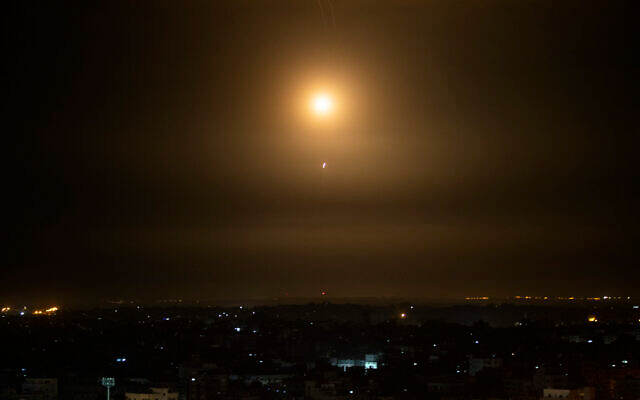 Projectile, the third to target south in 2 days, said to land in open field; Israeli tanks strike Hamas terror group in response
Palestinian terrorists in the Gaza Strip fired a rocket at Israel Tuesday night, the military said in a statement after rocket sirens were sounded in the south of the country.
The Israel Defense Forces did not specify where the projectile landed, but Hebrew media reports indicated it struck an open field near Kibbutz Nahal Oz on the Gaza border.
There were no injuries or damage reported.
Israeli tanks attacked military outposts belonging to the Hamas terror group in response to the rocket, the IDF said in a statement. Hamas-linked media said one resident of Gaza was lightly injured.
The incident came a day after two rockets were fired from the Strip toward the southern Israeli city of Ashdod, both landing in the sea just off the coast of the city. In response, IDF jets bombed sites where the Hamas terror group was digging underground tunnels in southern Gaza, the IDF said.
Though it was not immediately clear which terror group fired Monday's rockets, the IDF said Hamas was ultimately responsible as it is the de facto ruler of the Palestinian enclave.
The rocket launches come after a period of relative quiet on the Gaza border.
In late December, Hamas and other Gaza terror groups held a joint military drill during which several rockets were fired toward the sea, in an effort to send a "clear message to the Zionist enemy."
On the eve of the drill, Palestinians attempted to fire a projectile into Israel, but it failed to cross the Gaza border.
That came two days after two rockets fired from Gaza struck open areas along the coast — one near Ashdod and the other on Palmachim Beach, south of Tel Aviv — causing no significant damage or injuries.
Hamas has ruled the Gaza Strip since 2007, when it expelled its rival Fatah following a bloody struggle for control of the coastal enclave. Israel has fought three large campaigns against terror groups in the Strip since Hamas took control of the area, along with dozens of smaller exchanges of fire.