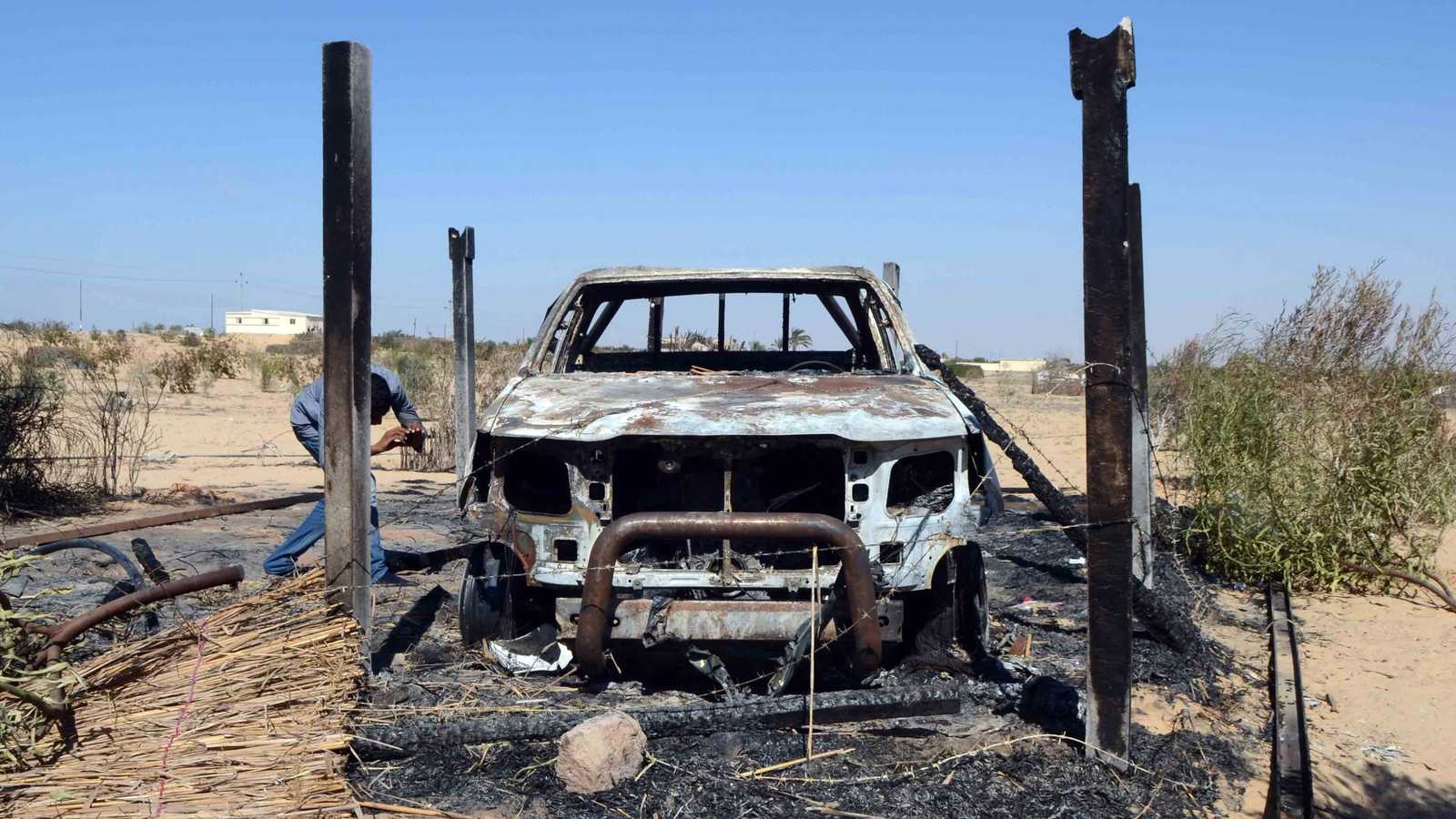 The Egyptian peninsula's deadly insurgency lingers on.
The Islamic State claimed responsibility for an attack that Egyptian security forces said killed one security officer and wounded three other people in the Sinai Peninsula early Thursday.
IS' local franchise claimed to have detonated roadside bombs in two separate attacks on the Egyptian army Thursday, one targeting a tank near the coastal town of Sheikh Zuweid and the other a bulldozer at a village near Egypt's border with Gaza.
Egypt's government under President Abdel Fattah al-Sisi has struggled to tamp down the insurgency. Last month, a pair of roadside bombs killed three soldiers near Sheikh Zuweid.
In February 2018 the Egyptian military announced a major nationwide sweep against Islamist terrorists mainly focused on the peninsula just a few months after IS gunmen mowed down more than 230 civilians attending Friday prayers at a Sufi-affiliated mosque near el-Arish.
North Sinai emerged as the insurgency's epicenter following the popular ouster of former President Hosni Mubarak in 2011 and the subsequent military coup against President Mohammed Morsi led by then-Defense Minister Sisi two years later.
Local Sunni jihadi group Ansar Beit al-Maqdis publicly pledged loyalty to the Islamic State in 2014, declaring itself IS Sinai Province.
Sisi's regime has led an unprecedented crackdown on Islamists, political opponents, liberal activists, human rights groups and Egyptian civil society in general since taking power in 2013. Journalists and most aid workers have been barred from much of North Sinai, which has been designated a restricted military zone.
Cairo's counterinsurgency effort in the desert peninsula has received quiet air support from Israel and Pentagon advice.
The United States last week designated Harakat Sawa'd Masr a global terrorist organization last week. The jihadi network is believed to have been founded by a former Egyptian special forces officer and linked to militants in Sinai.
Egyptian soldiers who have fought in Sinai have told Al-Monitor the army has made progress against the insurgency in recent years, but also complained about their own units' poor tactics and leadership. "We lost a lot of people," one junior conscript told Al-Monitor last year on condition of anonymity prior to his discharge. "Daesh [the Islamic State] always hits us from behind."