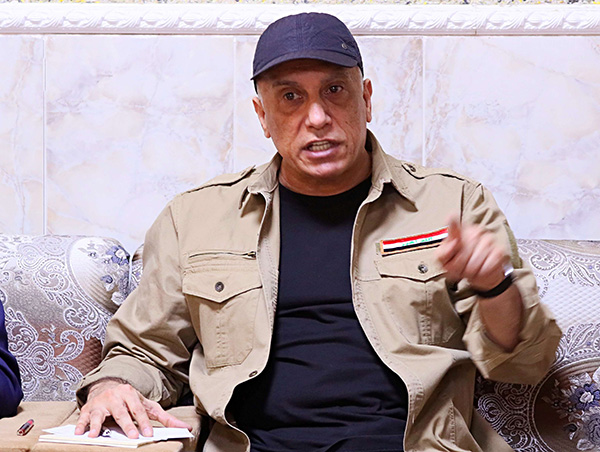 The Iraqi prime minister has used Issawi's killing to restore the public's trust in the government and security forces, which had declined following two security setbacks in Baghdad and Saladin.
The resurgence of ISIS activities in Iraq has prompted Iraqi forces to escalate their war against the group, with successive operations, some pre-emptive, targeting the terror group.
In view of the developments, some security experts have noted a tangible improvement in Iraqi forces' intelligence capabilities. Others have not hesitated to link their improved performance to the leadership of Prime Minister Mustafa al-Kadhimi, who previously headed the intelligence services.
Iraqi forces' most prominent achievement against ISIS came after the terror organisation claimed responsibility for a double suicide bombing in a Baghdad market that left dozens of civilians dead and wounded.
Iraqi forces responded by killing ISIS's "vice-caliph," Abu Yasser al-Issawi, in an operation described as meticulous. Iraq's intelligence services played an important role in the operation by tracking Issawi and uncovering his location before he was killed in the Kirkuk governorate, north of the capital. After the operation's success, the US-led international coalition said it took part in it.
In a new preemptive operation, the Iraqi army announced the arrest of members of an ISIS cell in Diyala province, including a suicide bomber who had planned to blow himself up in Baghdad.
The spokesman for the Armed Forces's commander-in-chief, Major General Yahya Rasoul, said in a statement, "The National Security Forces (linked to the prime minister) managed to dismantle an ISIS cell in Diyala and arrest its four members: the leader of the cell, a soldier, a transporter and a suicide bomber. Rasul added that "the suicide bomber was planning to blow himself up in the capital, Baghdad," noting that the operation came "as a result of the intensification of intelligence efforts."
Since January 20, Iraqi forces have engaged in large-scale military operations in the country to hunt down ISIS militants
The operations come as ISIS militants have increased attacks in recent months, especially in an area between the governorates of Kirkuk, Saladin and Diyala that is known as the Triangle of Death.
On Tuesday, Iraq's interior ministry announced a preemptive operation in which five ISIS members, including a woman, had been arrested in Kirkuk.
The interior ministry's intelligence agency said in a statement that "the arrested terrorists worked within the ranks of ISIS under various covers, and participated in operations against the security forces in the Olas and Ajil oil fields in Kirkuk and Saladin."
Observers of Iraqi affairs say the war against ISIS gives Kadhimi an opportunity to emerge successful and reinforce his popularity in light of other complex economic and social files that are difficult to resolve.
Kadhimi has used Issawi's killing to restore the public's trust in the government and security forces, which had declined following two security setbacks in Baghdad and Saladin. The prime minister himself announced the "elimination of the leader of the League of Evil, or whatever he calls himself: the vice-caliph and ISIS governor in Iraq, Abu Yasser al-Issawi, in a qualitative intelligence operation."
Kadhimi added in a press statement, "If the people of Iraq promise, they fulfill. We promised ISIS terrorist gangs a shocking response, and the response came from our heroes." The premier was referring to two ISIS attacks in Baghdad and Saladin, the first targeting a popular market and the second on a Popular Mobilisation Forces (PMF) convoy that killed more than 50 and wounded dozens.
Since the two attacks, Iraqi forces have launched a campaign to track down ISIS agents and operatives in three provinces — Baghdad, Anbar and Kirkuk. Media coverage of the operation first presented it as standard, mirroring many of the past security operations against ISIS that did not yield major results.
Kadhimi, however, managed to capture the media's attention when he personally announced the killing of the "vice-caliph." Kadhimi's office also shared photos of Issawi's body and confirmed that procedures had been taken to ensure he was indeed the target.
Kadhimi's office revealed that Issawi's death was only part of a series of operations that also killed "Ghassan Najm Saleh Ahmad al-Ubaidi, known as Abu Malik, who is responsible for ISIS gangs in Kirkuk, and "Abu Sadiq, ISIS's so-called governor of Kurdistan," as well as the liquidation of a number of senior members of the organisation — Ali Khalaf Hanoo al-Bayati and his brother Salem Khalaf, Nadhem Muhammad Ahmad al-Alkawi, Raji Hassan Khalaf Shahadha al-Lahibi and his brother Naji.
General Abdel Wahab al-Saadi, commander of Iraq's Counter-Terrorism Service (CTS), said that Issawi's death was only the beginning of continuous operations aimed at completely thwarting the threat of ISIS. The international coalition against ISIS, through its spokesman Colonel Wayne Marotto, described Issawi's death as a "big blow" to the terrorist organisation's effort to make a comeback in the country.
Observers say that the operation against Issawi was ideally timed for Kadhimi, who faces a campaign by Iran-aligned Shia militias questioning his ability to lead the country.
These militias took advantage of the Baghdad and Saladin attacks to declare that Kadhimi had failed to manage many issues. However, conducting these major strikes against ISIS also include many messages of deterrence to Iranian militias in Iraq, according to observers.