Former CENTCOM chief, Gen. Joseph Votel, considers the combined maritime task forces to be a "cornerstone" of Washington's regional security partnerships.
A new US-led maritime task force for the Middle East was established on Monday, making it the fifth such group at a time when the region is witnessing increased Iranian threats to international waters.
Combined Task Force (CTF) 154 was commissioned during a ceremony at the US 5th Fleet headquarters in Bahrain. The last task force, CTF 153, was formed in April 2022 for maritime security in the Red Sea.
CMF's other task forces include CTF 150, which focuses on maritime security in the Gulf of Oman and Indian Ocean; CTF 151, which leads regional counter-piracy efforts; and CTF 152, which is dedicated to maritime security in the Gulf.
The multinational partnership is meant to improve operational capabilities to enhance maritime security in the region, the US Naval Forces Central Command (NAVCENT) said.
CMF is the largest multinational naval partnership in the world, with 38 nations pledging to uphold the international rules-based order at sea.
The former head of the US Central Command (CENTCOM), Gen. Joseph Votel, considers the combined maritime task forces a "cornerstone" of Washington's regional security partnerships.
"The importance of the waters in the Middle East are essential not only for security but more importantly for the free flow of commerce – which benefits many nations in and out of the region," Votel told Al Arabiya English.
The new task force will enable more member nations to train without ships or aircraft, with some courses done ashore.
CTF 154 will also focus on five core areas: maritime awareness, maritime law, maritime interdiction, maritime rescue and assistance, and leadership development.
"Our navies are at their very best when we train, operate and work together," said Vice Adm. Brad Cooper, commander of NAVCENT, US 5th Fleet and CMF. "Establishing CTF 154 demonstrates our deep commitment to strengthening and expanding partnerships through new training opportunities that will enhance regional maritime security," he added.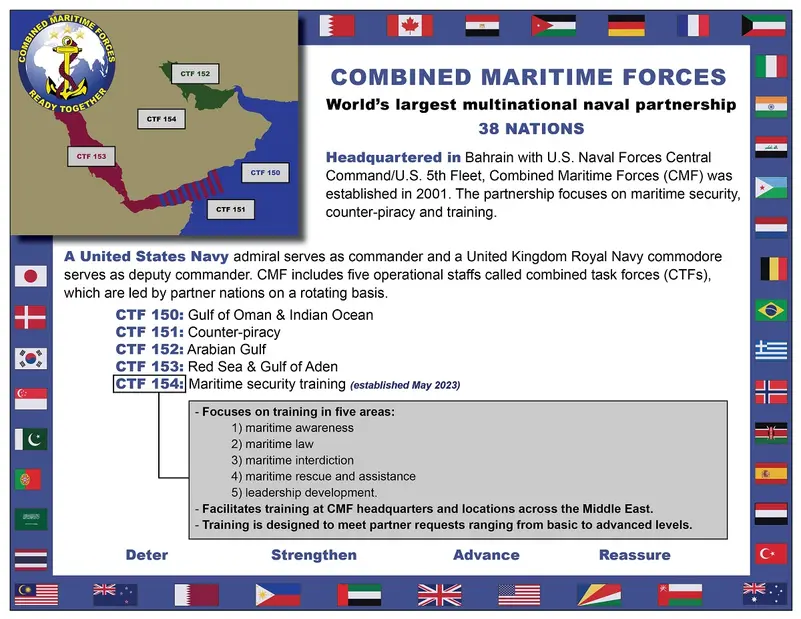 A US Navy captain will head CTF 154 before another nation assumes command in the fall.
The first exercise, Compass Rose, is being conducted in Bahrain this week. Over 50 partner nations will participate, including Bahrain, Kuwait, Oman, Pakistan, Saudi Arabia, the UK and the US.
"Focusing our efforts to facilitate training for the multinational partnership will refine our skillsets and reinforce our ability to operate together," said Capt. Oliver Herion, CTF 154's first commander.
According to the 5th Fleet, Iran has harassed, attacked or interfered with the navigational rights of 15 internationally flagged merchant vessels over the past two years. Earlier this month, the 5th Fleet announced it was increasing the rotation of ships and aircraft patrolling in and around the Strait of Hormuz because of Iran's recent vessel seizures.
And in the last two weeks, the US military seized over $100 million worth of methamphetamine and heroin on fishing vessels in the Gulf of Oman that had departed from Iran.
Votel, the former CENTCOM chief, said CMFs have improved partner capabilities and self-reliance in the region and many of the task forces are now led and made up of members of regional partners, "which is exactly as we would want it to be."
He also noted that the CMFs send a strong signal of unity and strength to adversaries, like Iran and others, including terrorists and illicit traffickers.