Kerry pushes for for Gaza ceasefire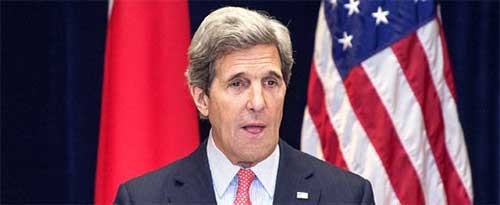 Despite criticism from Israel, Secretary of State John Kerry reiterated on Monday his desire for a ceasefire in the conflict between Israel and Gaza in order for the two sides to begin a process of negotiation.
Before leaving for home, Kerry submitted to Israel on Friday a ceasefire proposal that the country did not accept; since then, he has received much criticism from his Israeli allies over his perception and handling of Hamas.
"Israel has no better friend, no stronger defender than John Kerry," said Deputy National Security Adviser Tony Blinked in a briefing at the White House Monday. He added that the criticism was from, "people leaking things that are either misinformed, or attempting to misinform."
In separate remarks Kerry said: "Today we are continuing to work toward establishing an unconditional humanitarian cease-fire, one that could honor Eid, which begins now, and that will stop the fighting." He also expressed hope that a cease fire would allow food and medicine to go into Gaza and enable Israel to address the threat, "which is real."
In addition, Kerry added that the momentum, "generated by a humanitarian cease-fire is the best way to be able to begin to negotiate and find out if you can put in place a sustainable cease-fire, one that addresses all of the concerns."
You can follow any responses to this entry through the
RSS 2.0
feed.
Both comments and pings are currently closed.
//php comments_template(); ?>