Pakistani PM says it will not resign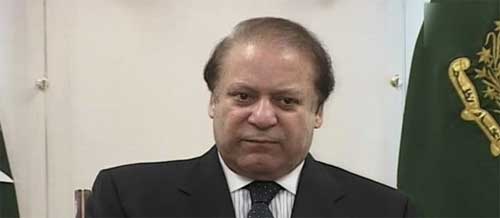 Confrontation between Pakistan government and the opposition escalated on Wednesday with Prime Minister Nawaz Sharif rejecting demands for his resignation and Imran Khan calling off the dialogue with his regime until he quits.
Addressing the Parliament for the first time on the ongoing political crisis, Mr. Sharif brushed aside the demand for his resignation saying the country has survived "difficult times" and the current political crisis too shall pass.
"We are not going to be diverted by these things. The journey for the supremacy of Constitution and law in Pakistan will continue with full determination and God willing there will not be any interruption in it," Mr. Sharif said.
On the other side, Pakistan Tehreek-e-Insaf (PTI) chief Khan hardened his stand and called off the dialogue with the government saying that he will not be able to get justice as long as Sharif stays on as Prime Minister.
The hardening of stance came after the failed fifth round of talks even as the Supreme Court ordered the demonstrators to clear the Constitution Avenue by tomorrow (Thursday).
Political stalemate has continued for the last two weeks with Mr. Khan-led PTI and cleric Tahir-ul-Qadri's Pakistan Awami Tehreek (PAT) refusing to budge from their demand of the Prime Minister's resignation over allegations of rigging in last year's general election and killing of 14 PAT supporters in Lahore on June 17.
Wednesday's developments came a day after Mr. Sharif and powerful Army Chief Gen Raheel Sharif agreed on the need to "expeditiously" resolve the political deadlock amid fears of instability in the coup-prone country.
You can follow any responses to this entry through the
RSS 2.0
feed.
Both comments and pings are currently closed.
//php comments_template(); ?>