Obama accuses Russia for Ukraine violence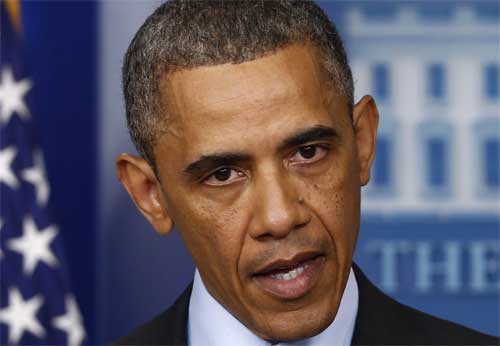 U.S. President Barack Obama on Thursday blamed Russia for the violence in eastern Ukraine, threatening "more costs" for Moscow.
The president told reporters at the White House that he spoke to German Chancellor Angela Merkel over the phone about the situation in Ukraine, as Kiev and the West were accusing Moscow of launching a new incursion into the country's east.
"We agree, if there was ever any doubt, that Russia is responsible for the violence in eastern Ukraine," he said. "The violence is encouraged by Russia. The separatists are trained by Russia. They are armed by Russia. They are funded by Russia."
"And this ongoing Russian incursion into Ukraine will only bring more costs and consequences for Russia," he added.
Russia denied sending weapons and soldiers to help the rebels, saying the men captured on Monday had crossed an unmarked section of the border by accident.
Kiev announced, however, that Russian forces seized the port of Novoazovsk and several towns and villages in Donetsk region. The North Atlantic Treaty Organization (NATO) said more than 1,000 Russian troops were believed to be operating inside Ukraine.
You can follow any responses to this entry through the
RSS 2.0
feed.
Both comments and pings are currently closed.
//php comments_template(); ?>