Turkey approaches point of no return on employing Russian air defense system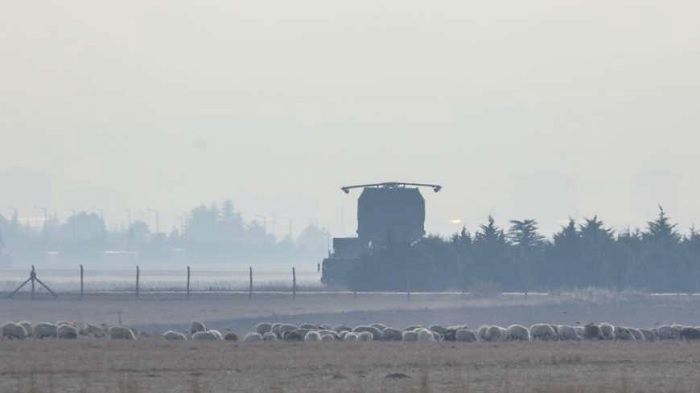 Ankara's decision to test-fire its controversial Russian missiles, overriding US warnings, appears driven by a combination of motives related to its ties with both Washington and Moscow.
Defying US threats of sanctions, Turkey last week test-fired at least one missile of its Russian S-400 air defense systems in what was ostensibly a show of resolve to activate the systems, but Ankara might be eyeing other objectives as well.
While Ankara has neither confirmed nor denied the six-hour test, an anonymous US official told Reuters that Turkey did test the S-400 system. Turkish authorities had issued an aviation notice earlier this month that unspecified missiles would be fired near the Black Sea city of Sinop in mid-October. Experts analyzing footage of a missile launch in the area Oct. 16 have identified the projectile as an S-400 missile of the 40N6E type, which has a range of 400 kilometers (248 miles), based on the engine ignition type and the angle and route of the smoke. Two other tests were expected to take place in the same area by Oct. 19.
The test, which reportedly lasted about six hours, represents the most crucial phase on the way to the activation of the S-400 systems — a red line drawn by the United States — following earlier drills in November 2019, when Turkey used US-made F-16 and F-4 fighter jets to test other components, most likely radars, at an air base outside Ankara, where the four S-400 batteries have been kept since Russia began deliveries in July that year.
Now, the last step to watch before a full activation will be the official assignment of the S-400 operators to the Turkish air force's combat structure, probably on the level of regiment, and their operational deployment to their places of duty.
Where the four batteries would be stationed remains unclear, but one will be almost certainly kept in Ankara. Given Turkey's military muscle-flexing in the Aegean and eastern Mediterranean seas, two other batteries are likely to be stationed in areas facing Aegean and Mediterranean waters. A fourth battery might go either to the Syrian or Armenian border.
The critical test came at a time when Washington is preoccupied with presidential elections less than three weeks away. Back in July 2019, Secretary of State Mike Pompeo had warned Turkey of "more sanctions" following its expulsion from the F-35 joint strike fighter program, stressing that the activation of the S-400s would be "unacceptable."
The State Department would not confirm the Oct. 16 test but warned of "potentially serious consequences" if Ankara activates the weapon. A Pentagon spokesperson said, "We have been clear: An operational S-400 system is not consistent with Turkey's commitments as a US and NATO ally. We object to Turkey's purchase of the system and are deeply concerned with reports that Turkey is bringing it into operation."
The chair of the Senate Foreign Relations Committee, Republican Jim Risch, said Turkey had gone "beyond the pale" and urged the administration to "send a strong signal that Turkey must divest its S-400s."
NATO, for its part, said, "Any test of the S-400 air defense system by Turkey, if confirmed, would be regrettable. It is important Turkey continues to work with other allies to find alternative solutions."
In Turkey, meanwhile, members and supporters of the ruling Justice and Development Party (AKP) were in a celebratory mood. The pro-government media hailed the test as a sign of how a confident Turkey is standing up to the United States or growing independent from the West or as "a move that will drive crazy those who cannot stomach" Turkey's growing strength.
Referring to domestic critics of the S-400 purchase, AKP parliamentary whip Bulent Turan tweeted, "The S-400 were tested in Sinop today. The biggest problem of this beautiful country are those wretches passing off as intellectuals who can never reconcile with the values of the nation and never trust their state and those shallow [opposition] politicians who cannot grasp where they should stand on national issues."
The timing of the test was hardly coincidental, according to observers.
President Donald Trump has been reluctant to slap further sanctions on Turkey despite pressure from Congress, especially the Democrats, who have often questioned Trump's relationship with Turkish President Recep Tayyip Erdogan. Many believe Ankara is already maneuvering to strengthen its hand against the prospect of Joe Biden winning the Nov. 3 elections. The argument rests on the assumption that Ankara is using the S-400s to extract concessions from Washington on other contentious issues such as northeast Syria, which is controlled by US-backed Syrian Kurds, and Turkey's cross-border struggle against the outlawed Kurdistan Workers Party, which has waged an armed campaign against Ankara for nearly four decades, has close links to the Syrian Kurds and uses bases in northern Iraq to attack Turkey. Accordingly, Ankara might eventually step back from a full activation of the S-400s, depending on the concessions it obtains.
Others, however, believe that Ankara has long made up its mind to activate the S-400 and has no intention of backing down. According to this vantage point, the S-400s reflect Turkey's drive for "independence" from the Western security block and NATO in favor of a "non-aligned" posture. In other words, the argument goes, the S-400s are the symbol of the new geopolitical standing and self-confidence of a Turkey asserting itself as an independent regional power.
Another perspective focuses on the domestic woes of the government. Turkey is in the grips of a deep economic crisis that is badly bruising low-income and middle-class groups, which make the bulk of the AKP's voter base. Hence, Ankara needs "success stories" on the international arena to stoke nationalist sentiment and distract the public, ready to brave foreign policy risks to sustain its popular support. The S-400s, portrayed as a symbol of Turkey's independence, are handsomely serving this purpose.
Finally, some observers draw a link between the test firing and Turkey's growing ties with Ukraine. The same day the missile was tested, Erdogan hosted his Ukrainian counterpart, Volodymyr Zelensky, in Istanbul. The two sides signed military cooperation deals aimed at raising their defense industry collaboration to the level of "strategic partnership." Hence, the argument goes, the test was meant to assuage Russia, which is at loggerheads with Ukraine. A Turkish-Ukrainian strategic partnership could fundamentally alter the geopolitics in the Black Sea region and would certainly irk Moscow, though its official reaction remains to be seen.
All in all, none of the four arguments can be dismissed, and all of those factors seem to have contributed to Ankara's decision to proceed with the test to a certain degree. In any case, Ankara's timing was rather astute as both Washington and Moscow are busy with other priorities nowadays.
You can follow any responses to this entry through the
RSS 2.0
feed.
Both comments and pings are currently closed.
//php comments_template(); ?>