Turkey to participate in military actions against ISIL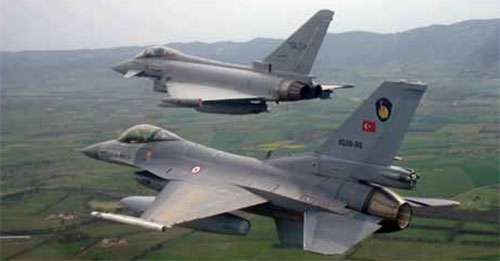 Turkey could lend military or logistical support to U.S.-led air strikes against Islamic State of Iraq and the Levant (ISIL) militants in Syria, President Recep Tayyip Erdoğanwas quoted as saying on Sept. 23, signaling a potential shift in Ankara's stance on the issue.
"We will give the necessary support to the operation. This could be military or logistical," Erdoğan was quoted as telling reporters in New York. 
The United States and its Arab allies bombed Syria for the first time earlier on the same day, targeting members of a separate al-Qaeda-linked group, along with ISIL, opening a new front against militants and directly intervening in Syria's three-year-old civil war.
Turkey has so far refused a military role in the coalition, citing domestic concerns.
Erdoğan's remarks came days ahead of his crucial Sept. 25 meeting with U.S Vice President Joe Biden.
Turkey is home to a major U.S. base in the southern town of İncirlik, which officials says has not been used so far in any lethal strikes in Iraq or Syria.
Erdoğan said Turkey viewed the U.S.-led action positively and stressed it should continue.
"We are not a country that is outside of the region," he also said in a separate interview with PBS's Charlie Rose, justifying Ankara's caution on the issue. "The fire is burning in our region. A total of 1.5 million refugees are not in the U.S., Germary or France, but Turkey."
You can follow any responses to this entry through the
RSS 2.0
feed.
Both comments and pings are currently closed.
//php comments_template(); ?>