Tunisian security forces kill 9 militants before solidarity march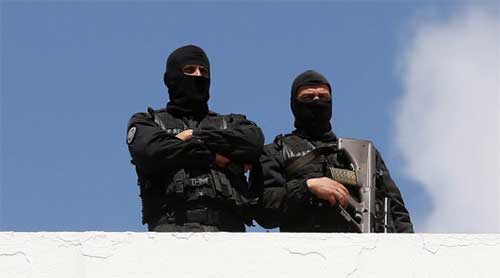 Tunisia forces killed nine militants, including a top commander, during a raid late on Saturday, the government said, hours before world leaders were due to march in Tunis in solidarity after an attack on the Bardo museum this month.
French President Francois Hollande was among those expected to attend the march, along with thousands of Tunisians, after the attack nearly two weeks ago, in which 24 people died, including 21 tourists, two militants and a Tunisian policeman. Tunisia's Prime Minister Habib Essid told reporters the raid in the southern Gafsa region killed nine militants from the local group Okba Ibn Nafaa, including an Algerian militant Lokman Abu Sakhr, accused of helping orchestrate Bardo.
'We have killed most of the leaders of Okba Ibn Nafaa who were behind many recent attacks,' Essid said at a Tunis airport waiting to greet visiting leaders. 'This is a clear and strong response to the terrorism after the Bardo attack.'
Thousands of police and soldiers were positioned around the capital early on Sunday before the 'Le Monde est Bardo' protest along a main boulevard leading to the museum known for its collection of Roman mosaics.
The killing spree at the Bardo was one of the worst attacks in Tunisia's history. The North African country has mostly avoided violence since its 2011 uprising against autocrat Zine El-Abidine Ben Ali and has been praised by the international community as a model of democratic transition with a politics of compromise, a new constitution and free elections. A fourth French national died of her wounds following the March 18 attack, the French president's office announced on Saturday.
Japanese, Polish, Spanish and Colombian tourists were among those killed in the attack that the government says was aimed at destroying Tunisia's vital tourism industry, which makes up around seven percent of its economy.
You can follow any responses to this entry through the
RSS 2.0
feed.
Both comments and pings are currently closed.
//php comments_template(); ?>