Tunisia: state of emergency extended by one month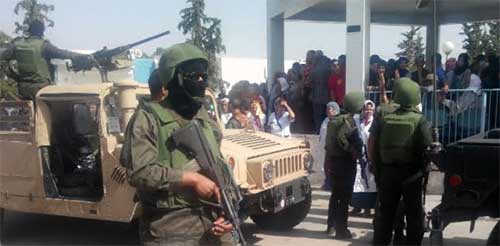 Tunisia announced Sunday the one-month extension of the state of emergency throughout the country reinstated in November after a suicide attack against the presidential guard in full Tunis.
"After consulting with the Head of Government and the President of the Assembly of People's Representatives on issues related to national security, especially the situation at the borders and in the region, the president has decided to extend the state of emergency a month from February 22, 2016, "said the Presidency in a statement on its official page on Facebook.
President Beji Caid Essebsi had proclaimed a state of emergency throughout the country and a curfew in Greater Tunis on November 24 in the wake of the attack claimed by the Islamic State group (EI) against a bus presidential security, which killed 12.
If the curfew was quickly lifted the state of emergency has been extended to him in December of two months, until 21 February.
Tunisia was hit in 2015 by three major attacks claimed by EI. Besides the attack against the agents of the presidential guard, 59 tourists and a policeman were killed in March in an attack at the Bardo Museum and in an attack in June on a beach and in a hotel near Sousse (East).
The state of emergency notably allows authorities to ban strikes and meetings "likely to cause or maintain disorder", to temporarily close "theaters and pubs" and to "take all measures to ensure control of the press and publications of all kinds. "
In early October, Tunisia lifted the state of emergency a few days after the attack in Sousse which had 38 deaths, all foreign tourists, June 26
Tunisians have experienced more than three years under a state of emergency, January 14, 2011, hours before the flight of dictator Zine El Abidine Ben Ali, in March 2014.
Tunisia has faced since its revolution in 2011, a rise of jihadist movement and thousands of Tunisians are in Iraq, Syria and Libya in the ranks of extremist groups. According to the authorities, the perpetrators of the attacks Bardo and Sousse were trained in weapons in Libya.
You can follow any responses to this entry through the
RSS 2.0
feed.
Both comments and pings are currently closed.
//php comments_template(); ?>