US Vice President to visit India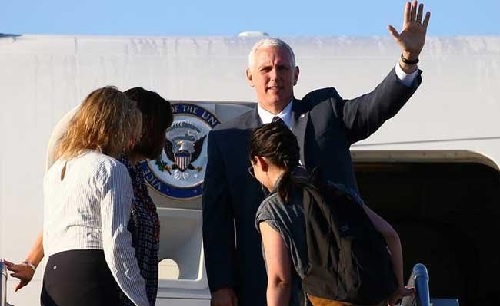 United States Vice President Mike Pence has said he is planning to visit India soon and asserted that the Indo-US partnership has never looked brighter with the best days for the two nations yet to come. Describing Prime Minister Narendra Modi's meeting with US President Donald Trump as "historic and productive", Pence said, "Today I say with confidence that our friendship would grow and deepen."
Addressing the top business executives of the United States, Pence appeared to be very enthusiastic about the future of the ties between the US and India, which he said can work together for the development, peace and prosperity of the two countries and the world.
Pence was addressing the 42nd annual gala of the US- India Business Council (USIBC), the top industry advocacy body of American businesses having a footprint in India.
Recollecting President Trump's remarks at the Rose Garden in White House yesterday, Pence said, "India has a true friend at the White House" and so do all the businesses that have gathered at the event. This is an exciting time between the US and India. As President Trump said, the future of our partnership has never looked brighter."
Pence also had a one-on-one meeting with PM Modi at the White House on Monday.
You can follow any responses to this entry through the
RSS 2.0
feed.
Both comments and pings are currently closed.
//php comments_template(); ?>