US-backed forces advance against Daesh in Syria's Raqqa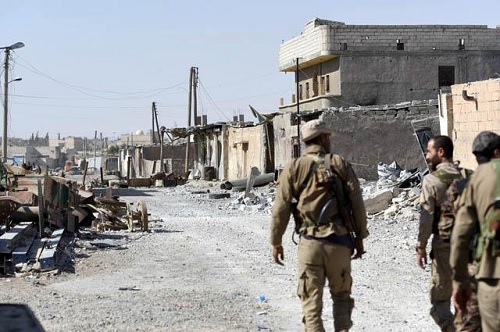 US-backed forces said Monday they had seized a new neighbourhood from the Daesh terror group in the extremist stronghold of Raqqa in northern Syria.
The Syrian Democratic Forces (SDF), an alliance of Kurdish and Arab fighters, have been pressing an operation to capture the extremist stronghold since last year, and they penetrated the city in June.
"Al Yarmuk district was liberated yesterday," the SDF's spokeswoman for the Raqqa operation, Jihan Sheikh Ahmed said.
Al Yarmuk is a large neighbourhood on the southwestern outskirts of the city.
"The operation is continuing but there are many fierce clashes," Ahmed said, speaking in the town of Ain Issa, 50 kilometres north of Raqqa.
"We are taking steady and sound steps. What is important to us is not speed, but liberating civilians and eliminating Daesh," she added.
An AFP reporter in Jazra suburb on the western outskirts of the city on Monday saw US-led coalition forces at a joint position with SDF fighters firing artillery in the direction of Daesh posts deeper inside Raqqa.
Progress inside Raqqa has been hampered by extensive mining of neighbourhoods, which has slowed advancing SDF fighters and also had devastating consequences for civilians trying to flee.
"There have been many casualties, fighters and civilians, caused by mines," an SDF commander told AFP, without giving his name.
"Yesterday, we buried six civilians after a mine exploded as they were trying to escape," he added.
The Britain-based Syrian Observatory for Human Rights said the SDF had advanced in Al Yarmuk but did not yet fully control the district.
You can follow any responses to this entry through the
RSS 2.0
feed.
Both comments and pings are currently closed.
//php comments_template(); ?>