Libya strongman says victory near against Derna jihadists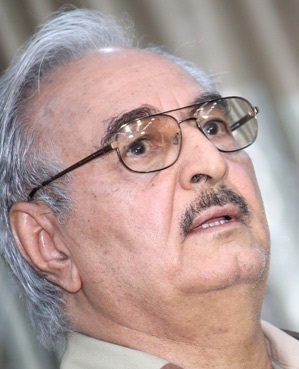 Libyan military strongman Khalifa Haftar said on Monday that victory was near for his forces in Derna, the eastern city held by jihadists since the 2011 armed uprising.
Haftar's self-styled Libyan National Army launched an offensive on May 7 to "liberate" the coastal city, home to about 150 000 people and held by hardline fighters since the uprising that ousted dictator Muammar Gaddafi.
"Victory is near," Haftar said in a video published on YouTube, adding that his forces had "cleaned up" suburbs of the city.
LNA forces have laid siege to Derna for nearly two years, making it difficult for residents to access humanitarian aid.
The city is the only part of eastern Libya out of the LNA's control.
It is held by a ragtag coalition of Islamist and jihadist militias, including groups close to Al-Qaeda, hostile to both Haftar and the Islamic State group.
Haftar said that after its "liberation" his forces would deploy across the city to take control of all areas and infrastructure.
But he called on them to ensure the safety of residents and to put up defence barriers for additional security.
The strongman whose forces are backed by the United Arab Emirates and Egypt also prohibited his troops from taking "revenge", in particular against "terrorists" who surrender and give up their arms.
"It is necessary to respect legal procedures concerning prisoners and to deliver them to the competent organs," Haftar said.
You can follow any responses to this entry through the
RSS 2.0
feed.
Both comments and pings are currently closed.
//php comments_template(); ?>