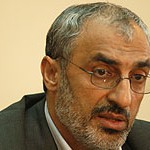 TEHRAN (FNA)- Iranian Minister of Science, Research and Technology Mohammad Mehdi Zahedi here Monday met with a delegation of six American university presidents currently on a visit to Iran. The visit by the American delegation takes place at the invitation of the president of Sharif University of Technology Saeed Sohrab-Pour.
The visit aims to prepare the ground for exchange of university students and professors between the two countries.

The American academics will visit some other Iranian universities during their stay in Iran.
The group will also visit the historical city of Isfahan and Isfahan University of Technology, the Islamic republic news agency reported.
The American deans include Prof. Robert M. Berdahl, Prof. David J.
Skorton, Prof. David W. Leeborn, Prof. J. Bernard Machen, Prof. C.D.
Mote, Prof. Larry Vanderhoef and Prof. Jared L. Cohon.