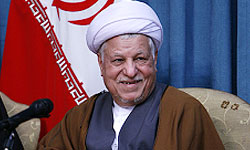 TEHRAN (FNA)- Iran's Expediency Council Chairman Akbar Hashemi Rafsanjani said that the western states have not fulfilled their promises to Iran, and further questioned the West's sincerity regarding Tehran's nuclear program.
The United States, Germany and France had struck their own deals with Iran to construct nuclear power plants before the 1979 Islamic Revolution, said chairman of Iran's Expediency Council, Akbar Hashemi Rafsanjani in a meeting with former French prime minister, Dominic de Villepin in Tehran.
The nuclear program of Iran was launched in the 1950s with the help of the United States. By the 1970s under the Nixon and Ford administrations, Iran was preparing to construct two dozen full nuclear cycle reactors across the country.
This would have meant enriching uranium to fissile grade material but was not a western concern at that time nor did it hinder the support of the US and European governments.
The schedule for planning and building this network of reactors continued until the revolution that toppled the last shah of Iran in 1979.
In 1992, Iran and Russia signed an agreement on nuclear cooperation, and Moscow signed a contract in January 1995 to build Tehran's first nuclear power station in the southern city of Bushehr.
According to press tv, Rafsanjani also noted that the West had always put obstacles in the way of Iran's drive to attain nuclear technology, underscoring that the country will not leave off its quest for nuclear power.
Western states accuse Iran, a signatory to the Non-Proliferation Treaty (NPT), of pursuing a secret nuclear weapons program. Tehran denies the charges as baseless, saying it is entitled to peaceful nuclear technology.
The sanctions in place and the never ending skein of threats will hurt the current negotiation process between Iran and the 5+1 Group of nations over the issue, said Rafsanjani.
De Villepin admitted that every country has right to acquire a peaceful nuclear program within framework of international regulations.
He noted that "the continued questions" regarding Iranian nuclear program works against a possible deal over the issue.
"This situation will give an opportunity to somebody to increase tension" over the issue, the former premier said.