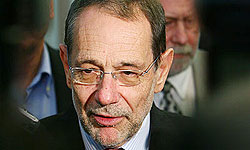 TEHRAN (FNA)- EU foreign policy chief Javier Solana said he hopes the Obama administration will engage in nuclear negotiations with Tehran.
"We would like very much to see the United States more engaged," Solana said in Washington in response to a question about his hopes for the next administration's policy toward Iran.
"I think it is important that the administration gets engaged. I think it should be in this format (G5+1), but it does not prevent bilateral contacts from taking place (between Iran and the US)," he added.
The top European Union diplomat, who has led nuclear talks on behalf of the permanent members of the Security Council plus Germany (G5+1), said his perception was that Iranian officials were willing to talk to Washington.
Solana added that one of his deputies might meet with his Iranian counterpart later this month.
"It will not be a big event. Thereafter we will see how things evolve," he explained.
During his election campaign, US President-elect Barack Obama said he plans to conduct direct talks with Iranian officials.
The United States and Iran broke diplomatic relations in April 1980, after Iranian students seized the United States' espionage center at its embassy in the heart of Tehran. The two countries have had tense relations ever since.