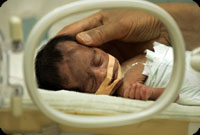 Humanitarian organizations in Iran have begun collecting aid for the impoverished people of Gaza now suffering from an Israeli blockade. The relief effort is underway in various cities throughout the country, according to reports released Monday.
The aid, which includes medicine, food and other essential goods, will be sent to the coastal region of Gaza, where many people are suffering from a severe shortage of basic materials because of the Israeli siege.
The Jordanian Muslim Brotherhood has also announced plans to send 20 volunteers and a shipload of humanitarian aid to Gaza later this month.
Earlier this week, Israel intercepted a Libyan ship en route to the Gaza Strip on a mission to provide aid to the region. Tel Aviv ordered the ship to return to Egypt.
Gaza has been under an Israel-imposed blockade since June 2007, when the democratically-elected Hamas movement took control of the coastal strip.
MJ/CW/AA