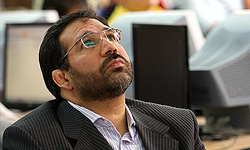 TEHRAN (FNA)- Iranian Economic Minister Shamseddin Hosseini and Bosnian Minister of Foreign Trade Mladen Zirojevic in a meeting here in Tehran on Monday explored avenues to expand mutual trade and economic relations.
Iran seeks ways to boost cooperation with Bosnia in various sectors like banking, foreign investment, privatization, etc., he said.
According to Tehran Times, Hosseini stressed on further cooperation between the two sides' private sectors and called for the exchange of delegations of banking officials.
"Iranian officials have always wanted peace and safety for Bosnia," he noted, adding that the finance ministry is prepared to streamline cooperation and sign necessary agreements.
Zirojevic expressed displeasure over the level of economic cooperation and called for bolstering Tehran- Sarajevo economic and political relations.
He said Bosnia welcomes financial and banking cooperation and said it would pave the way for Iran's investment and participation in Bosnian projects.
With regard to Bosnia's investment laws, he said, Bosnia and Herzegovina can be the best gate for Iran to attend European markets.
Last month, the director of the Trade Promotion Organization of Iran (TPOI) Mehdi Ghazanfari and the deputy foreign minister of Bosnia-Herzegovina Ana Trisic-Babic agreed to establish a joint economic commission, IRNA reported.
With regards to economic exchanges with Bosnia, Iran has exported and imported respectively over one million dollars and less than 2 million dollars worth of goods, in the last Iranian calendar year (ended March 19, 2008), which, Ghazanfari said, is less than enough considering the two sides political ties.
Up to now, Iran has inked only six memorandums of understanding with Bosnia on transportation, customs, investment, and commercial ties.
Iran and Bosnia, on June 21, agreed to broaden their trade and economic ties through participation in each other's exhibitions. Iran's International Exhibitions Company director, Mohammad Javad Salari and his Bosnian counterpart inked the MOU, the state-run tv reported.