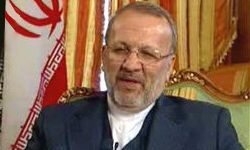 TEHRAN (FNA)- Foreign Minister Manouchehr Mottaki said on Monday that Iran-Oman ties can serve as a model for regional countries.
In a meeting with Omani King Sultan Qaboos' envoy, Abdelaziz Al-Rawwas, he added that the two countries' relations have always been cordial and extensive.
Stating that there is no change in Iran's regional policies, he referred to foreign powers' plots to sow discord among regional states and stressed the need to promote cooperation and unity to foil the enemies' conspiracies, Tehran Times reported.
Al-Rawwas, for his part, described the two countries' ties as historic and stable, adding that they are firmly determined to deepen ties.
"Common interests and security are important to Oman. Iran is the cradle of civilization and culture. The Strait of Hormuz like a natural beautiful carpet has linked the two brotherly nations," he said.
Al-Rawwas is in Tehran to submit the king's message to President Mahmoud Ahmadinejad.