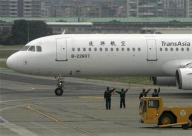 MOSCOW (Reuters) – A test launch of Russia's new submarine-based missile Bulava has failed, Interfax news agency said on Tuesday, quoting a source in the military-industrial complex.
Russia plans next year to equip some of its nuclear-powered submarines with Bulava, capable of carrying up to 10 warheads to the distances of up to 8,000 km (5,000 miles). However, about half of the test launches have failed.
The source told Interfax that Bulava deviated from its course soon after being launched from the Dmitry Donskoi submarine, which belongs to the Northern Fleet based in the Arctic port of Severomorsk.
He said a command for the missile to self-destruct was given after a failure of its booster was recorded.
"There were no casualties or damage during the self-liquidation," the source was quoted as saying.
An aide to navy commander Igor Dygalo told Reuters the launch was carried out on Tuesday in the White Sea. He declined to comment on its results.
"The launch was carried out as part of the state program of tests," he said. "The results are being analyzed."
The military wants Bulava to become the workhorse of Russia's missile forces, with the ground-based Topol-M replacing aging Soviet-era rockets.