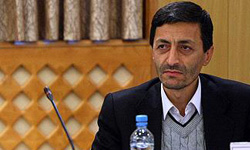 TEHRAN (FNA)- Iranian Energy Minister Parviz Fattah said Mangla dam raising project is technically an excellent precedent in the history of dam construction.
He stated this during a visit to the project accompanied by a 10-member technical delegation.
Pakistan Electric Power Company Managing Director Fazal Ahmad Khan and senior officers of Water and Power Development Authority were also present.
The Iranian minister said, "He is delighted to visit the Mangla dam project as this is one of the mega multi-purpose projects in Pakistan."
Speaking on the occasion, WAPDA Chairman Shakil Durrani said Mangla dam had been significantly contributing to the country's economy through water supply for agriculture and low-cost hydel power generation since its completion in 1967.
WAPDA Member (Water) Syed Raghib Abbas Shah briefed the delegation that the dam, the first and foremost component of the historic Indus Basin Settlement Plan, was completed at a cost of $1.473 billion. Gross storage capacity of the reservoir is 5.88 million acre feet.