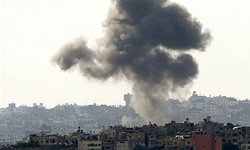 TEHRAN (FNA)- Israel rejected international pressure for a two-day cease-fire with Hamas and sent warplanes Wednesday to demolish tunnels that are the lifeline of Gaza's population.
The diplomatic efforts to forge a truce were set in motion by the scale of destruction in Gaza since Israel unleashed an offensive Saturday against Palestinians in Gaza Strip.
Gaza officials say the five days of airstrikes have killed 390, including 200 uniformed members of Hamas security forces, and have wounded about 1,900. The UN says many Palestinian civilians are among the dead. Four Israelis have also been killed by militant rocket fire, including three civilians.
The offensive has touched off protests across the Islamic world. In Iran on Wednesday, students asked the government to authorize volunteer martyrdom-seeking bombers to attack Israel.
On Tuesday, France urged Israel to halt its operation for 48 hours. Calls for an immediate cease-fire have also come from the US, the European Union, the UN and Russia.
Israel Prime Minister Ehud Olmert discussed the idea of a two-day truce with his defense and foreign ministers overnight, but the trio decided to pursue the barbaric blitzkriegs.
Olmert told ministers Israel launched the operation to fundamentally change the situation in the south, and would not leave the job half done with a unilateral cease-fire.
"If conditions ripen to the point that we assess they promise a safer existence in southern Israel, we will consider it. We're not they're yet," Olmert said, according to a participant in the meeting who spoke on condition of anonymity because the meeting was closed.
Early Wednesday, Israeli aircraft pounded tunnels under the Gaza-Egypt border in another attempt to sever the lifeline that keeps Palestinians alive by supplying food and fuel.
Israel and Egypt blockaded Gaza after Hamas seized control of the territory in June 2007, and have cracked open their borders only to let in limited amounts of humanitarian aid.
In Gaza City, powerful airstrikes sent high-rise apartment buildings swaying and showered streets with broken glass and pulverized concrete.
A Palestinian medic was killed and two others were wounded when an Israeli missile struck next to their ambulance east of Gaza City, Palestinians said.
Israeli navy ships also fired at Hamas positions along the coastline.
Hamas Spokesman Taher Nunu said the Gaza government was functioning and had met over the past few days.
"What our people want is clear: an immediate stop to all kinds of aggression, the end of the siege by all means, the opening of all border crossings, and international guarantees that the occupation will not renew this terrorist war again," Nunu said in a statement.
Israel has been massing troops and armor along the Gaza border in an indication the air campaign could morph into a ground operation. The Zionist government approved a plan to call up an additional 2,500 reserve soldiers late Tuesday, following a decision earlier this week to authorize a call-up of 6,700 soldiers. The call-ups have yet to be carried out.
In two phone calls to Defense Minister Ehud Barak on Monday and Tuesday, French Foreign Minister Bernard Kouchner appealed to him to consider a truce to allow time for humanitarian relief supplies to enter Gaza, two senior officials in Barak's office said.
The UN planned to resume food aid distribution on Thursday, after halting it two weeks ago because of shortages caused by the blockade. Most of Gaza's 1.5 million residents rely on UN food handouts. Britain and Indonesia also said they would send humanitarian relief.