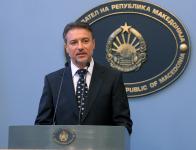 Three months from a deadline for the completion of Macedonia's new presidential residence, President Branko Crvenkovski's cabinet is accusing the government of deliberate delays to the works.
The president, who previously led the opposition Social Democrats, has in recent months clashed publicly with the current government led by the centre-right VMRO DPMNE party. Relations between the two offices are at an all-time low.
.
Crvenkovski and his staff are currently using one floor in Macedonia's parliament building. Senior Crvenkovski aide Natasa Savova-Salkovska said the new presidential residence was 95 percent finished when VMRO DPMNE came to power in 2006, after which point construction was deliberately put to a halt.
"The government's intentions are obvious. It wants to prevent the President from using the new residence", Savova-Salkovska said told the daily Dnevnik.
Crvenkovski has said he will not run for a second term in the March presidential election but would return as opposition leader.
The head of services in the government, Vasil Donevski, denied any deliberate staling and said everything was going according to plan. He said the building will be finished in March.
"The residence is complete, the technical check up was done three weeks ago. Some minor corrections are needed and we will start equipping the residence with furniture and arranging the greens", Donevski told the same newspaper, adding that the contractors were the ones responsible for delays.
The €3.7 million building has so far been under police guard and is closed to the public and to media. While the government says the building has a total 3,400 square meters of space, the President's cabinet counters it is in fact only 2,400 square meters.