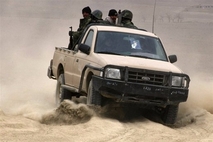 KABUL (AFP) – The deputy head of the NATO-led force that has more than 50,000 soldiers in Afghanistan helping to fight extremist insurgents has said security did not deteriorate last year as much as portrayed.
A few "spectacular attacks" by the insurgents in 2008 had fed perceptions that security was worsening, British Lieutenant General Jim Dutton said, answering questions from the media in a video posted on the Internet this week.
However there had been some improvements with violence in the capital Kabul "much lower" than in 2007, the International Security Assistance Force (ISAF) deputy commander said.
He added: "There is no evidence of a coordinated effort by insurgents to try to encircle the capital city despite what we sometimes read."
The general also pointed to military campaigns that took back the southern districts of Musa Qala and Garmser, both in the province of Helmand, from insurgent control.
He admitted "there is no doubt that security has deteriorated in other areas — particularly freedom of movement on some of the major highways … has been curtailed."
"We are not where we want to be on security but I would refute the suggestion … that it is considerably worse over 2008," he said.
ISAF is working with a US-led coalition and the fledgling Afghan security forces to tackle extremist insurgents led by the Taliban, a hardline religious group that was in government between 1996 and 2001.
Dutton, who has served in Iraq and took up his post in Afghanistan late last year, said the militants had over the past year made greater use of terrorist tactics such as suicide bombings, and tended to attack "softer targets."
"Certainly they have gone for police units who tend to be less well protected and less well armed than the equivalent army units and ISAF units.
"They have gone for government officials, they have gone for installations, such as district centres," he said.
Over the next year, the military forces in Afghanistan will be boosted with the arrival of thousands of additional US troops, perhaps some from other countries and new soldiers in the Afghan National Army, Dutton said.
But he said the militant bases across the border in Pakistan would continue to be a key challenge for Afghan and foreign troops here.
"The problems with militants' sanctuaries across the border in Pakistan — although getting better with greater cooperation with Pakistani security forces in the border area — is still going to exist to a greater extent than we would wish," Dutton said.