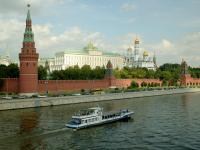 Supplies of Russian gas via Ukraine to Bulgaria, Romania and Croatia were reduced or halted on Tuesday because of a dispute between Moscow and Kiev, raising concerns about Russia's credibility as a supplier and its readiness to use its energy muscle to push political aims.
Russian gas export monopoly Gazprom cut all supplies for Ukraine's domestic use on New Year's day in a row over gas prices — creating a knock-on effect for Europe which receives one fifth of its gas from pipelines through Ukraine.
"Supplies to Bulgaria … have been suspended," Bulgaria's Economy Ministry said in a statement. "We are in a crisis situation."
Croatian oil and gas group INA said on Tuesday that delivery of Russian gas to Croatia had been stopped and called on consumers to hold back consumption.
"INA's delivery of gas to big industrial producers has been reduced," a statement said, adding that households, schools, kindergartens, hospitals and similar institutions will have priority in supply. "We warn all consumers to use gas rationally."
Russian supplies to Romania were reduced by 75 pct from contracted levels as a result of the dispute, and the government called a crisis meeting.
"We are not facing any problem despite the cut by around 75 percent of gas deliveries from Russia. Romania has enough gas for its needs for at least one month even at a time of high demand", said Romanian Prime Minister Emil Boc.
Romania, where temperatures dropped below minus 15 degrees Celsius overnight, produces around 65 percent of its annual domestic consumption from local fields and imports about one-third from Russia.
Other Balkan countries said their economies were not yet affected by the row. A government official who spoke to Reuters on condition of anonymity said Macedonia had no problems with natural gas supply as most of its companies were closed during the holiday season.
Almir Becarevic, general manager of Bosnia's main gas distributor BH Gas, said the country had no shortages in natural gas supply despite higher consumption due to low temperatures. Albania is not connected to any external gas networks
Serbia, which imports 92 percent of its 2.4 billion cubic meters of natural gas annually from Russia via Hungary and Ukraine, has called on industrial natural gas consumers to prepare to switch to another fuel should the row continue.
Serbia has a roughly a 10-day supply, Dusan Bajatovic, head of Srbijagas told Reuters.
"We have already asked our major consumers to prepare plans for switching to another fuel," Bajatovic said. "Until now we have managed to get our daily natural gas deliveries."