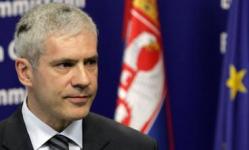 Serbian President Boris Tadic has sent a letter of protest to the United Nations and European Union asking them to protect the Serb population in Kosovo from what he said were deliberate attacks by "the Kosovo government and Albanian extremists".
Two Kosovo Serbs were attacked by a group of Albanians in Mitrovica this weekend, local police say, the latest skirmish in the tense divided town. The previous week a knife attack on a Serbian teenager caused a massive Serb protest that damaged dozens of Albanian shops and cars.
In the letter, sent to the UN Security Council member-states, UN Secretary General Ban-Ki Moon, and to current EU president Czech Republic, Tadic said that the "real intention of the Kosovo government and Albanian extremists is to use violence in order to provoke conflicts with Serbs in order to stop the implementation of the six-point agreement reached between Serbia and the United Nations, which was confirmed by the Security Council."
Tadic wrote that KFOR, EULEX and UNMIK did not react in time in order to stop the attacks on Serbs in Mitrovica and demanded immediate measures to protect the Serbs who are in danger.
"There was a lack of adequate reactions by the peacekeeping forces which are obligated to protect and secure the Serbs who are the most endangered in Kosovo," Tadic wrote. "Such incidents can lead to a worsening of the overall security situation in Kosovo and I am therefore asking for officials of the international community to immediately increase the level of security and to prevent attacks against Kosovo Serbs."
Mitrovica has been a flashpoint since Kosovo's Albanian majority declared independence from Serbia in February. Some 20,000 Serbs live in the north of the town but refuse to deal with Kosovo institutions and see Belgrade as their capital.
In the last two weeks tensions have spilled over to violent protests that have injured several people and caused extensive property damage. The latest bout of unrest erupted after a Serb teenager was hurt by two knife-wielding Albanian teenagers on Dec. 30, prompting hundreds of Serb protesters to burn down or trash Albanian shops and cars.
But one moderate Kosovo Serb politician said Belgrade should be held accountable of the trouble in the north.
"Northern Kosovo is continuously being announced as being under Belgrade's control, therefore Belgrade is responsible for all the incidents", said Rada Trajkovic, a local leader who many Serbs see as being close to Kosovo's international authorities.
She said citizens in north Mitrovica are very worried that "people from their own community are being obviously used".
The Kosovo government said it is coordinating its police services with KFOR and EULEX forces in order to promote security in north Mitrovica and called on Serbia to stop inciting violence in the area.
"Our … obligation is to contact the international community to pressure the government in Belgrade not to undertake destructive and violent actions within the Republic of Kosovo's territory", said deputy Prime Minister Hajredin Kuci.