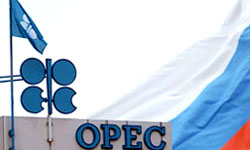 TEHRAN (FNA)- OPEC is not considering holding an extraordinary meeting next month, Libya's envoy to the oil producers' cartel said Wednesday.
"So far we are not talking about another meeting," said Libya's OPEC representative, Shukri Ghanem.
Iranian OPEC delegate Mohammad Ali Khatibi had on Monday said that the Organization of Petroleum Exporting Countries would hold an extraordinary meeting next month.
But Ghanem told AFP on Wednesday, "Of course as usual we are watching and monitoring the market but for the time being it is not in the plan to meet."
OPEC, whose 12 members together produce about 40 percent of world oil, last month agreed to cut output by 2.2 million barrels per day in a bid to shore up crude prices. World oil prices fell by 54 percent in 2008 as a sharp global economic slowdown weighed on energy demand in the second half of the year.
However, in the first half, crude futures rocketed to record highs of above 147 dollars a barrel in July on fears of supply disruptions. Towards the end of 2008, prices slumped to just above 33 dollars – the lowest in four and a half years.