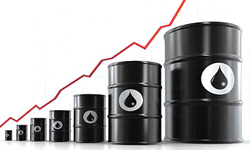 TEHRAN (FNA)- Crude oils from the Middle East were at premiums to their benchmarks on concern that supplies would be limited after Iran said it would cut February shipments to Asia.
Oman crude oil for March loading was at a premium of 13c a barrel to its official selling price, according to data compiled by Bloomberg . Murban, produced by Abu Dhabi National Oil, for loading in March remained at a premium of 8c to its official selling price, Bloomberg data showed.
The state-owned National Iranian Oil will lower supplies sold under long-term contracts by 14%, said two officials at refineries in Taiwan and Singapore, who asked not to be identified because of company policies.
The cut comes after the Organization of Petroleum Exporting Countries (OPEC) agreed on December 17 to reduce output to stem falling oil prices.
"OPEC has been seen to manage a situation where demand is dropping," said Tony Regan, an independent oil and gas consultant who is based in Singapore. "They have cut back in a controlled way."
Oman crude oil for immediate loading rose 90c or 1,8% to $51,31 a barrel. Dubai oil for loading in March fell 3c or 0,1% to $50,20 a barrel. Murban crude climbed 1,9% to $52,18 a barrel.
Oman crude oil futures for March delivery gained 34c to $50,44 a barrel on the Dubai Mercantile Exchange yesterday, with 564 contracts traded. The settlement price was set at $50,47 .
The Brent-Dubai exchange for swaps for February was $1,82 a barrel as of yesterday and the exchange for swaps for March narrowed $1,11 to $1,80 a barrel, according to data from PVM Oil Associates. The exchange for swaps is the price difference between the Brent and Dubai swaps contracts.